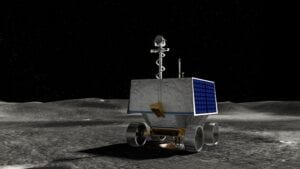 Paris, 24 May 2021. – NASA is planning to send its robot rover Viper to the Moon in late 2023, the agency said, to search for ice and other resources on and below the lunar surface.
Data from the Volatiles Investigating Polar Exploration Rover (or VIPER) would help the agency map resources at the lunar South Pole that could one day be harvested for long-term human exploration at the Moon, NASA said.
NASA had tasked the launch, transit and delivery of Viper to the lunar surface to Astrobotic last year, as part of the agency's Commercial Lunar Payload Services (CLPS) initiative.
Viper will carry four instruments, including the Regolith and Ice Drill for Exploring New Terrains (TridentR) hammer drill, the Mass Spectrometer Observing Lunar Operations (MSolo) instrument, the Near Infrared Volatiles Spectrometer System (Nirvss) and the Neutron Spectrometer System (NSS), the U.S. space agency said.
NASA's investment in the mid-size rover for mission development costs and operations is $433.5 million. The current delivery contract value for Astrobotic to deliver Viper to the Moon through CLPS is approximately $226.5 million.