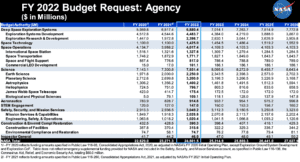 Paris, 31 May 2021. – The U.S. government has requested a $25 billion budget for NASA for 2022, the agency said.
The budget request for the agency amounts to $24.8 billion, NASA said, $100 million more than requested in April.
The largest single item in the budget is for Deep Space Exploration Systems, with $6.88 billion, followed by the Science budget with $7.9 billion, which includes the James Webb Space Telescope.
"The Biden-Harris Administration's fiscal year 2022 funding request is an investment in America's future," NASA Administrator Bill Nelson said. "Agency activities contribute to economies local and national, invest in the next generation through STEM education, and are essential to American leadership around the world. This budget request is evidence that NASA's missions contribute to the administration's larger goals for America: addressing climate change, promoting equity, and driving economic growth."
"This funding request increases investment in climate research and science programs, allowing NASA to build the next generation platform: The Earth System Observatory, an array of space-based satellites, instruments, and missions, will deliver critical data to help us better understand Earth as a system and prepare and protect our communities in the face of natural hazards," Nelson said.