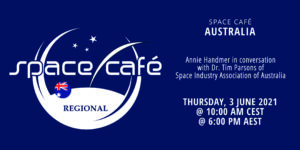 This Space Café Australia will feature Dr Tim Parsons in conversation with Annie Handmer, a friend of SpaceWatch.Global.
Mission to Planet Earth
Space is often framed as being outward-looking; about exploration, pushing boundaries, and crossing new frontiers. But in this edition of Space Café Australia, guest Dr Tim Parsons and host Annie Handmer ask us to turn our attention inwards, and think about the planet in our solar system that is our most important and which we still barely understand: Planet Earth. This discussion will look at the crucial role space can play in observing, tracking, and measuring natural processes on Earth, and the importance of space data to sustainable development, providing benchmarks and accountability on climate targets, and helping to reduce resource-driven conflict. It will also take a close look at Australia's place within a global space industry ecosystem, and how the Australian space sector can grow to meet the challenges that life on Planet Earth presents.
A 30-year veteran of research and startup innovation within Space, MediaTech, and AgTech across the era of digital transformation, Dr Tim Parsons is Chair of the Space Industry Association of Australia, coordinator of SmartSat CRC's New South Wales industry collaboration node and Chair of the SmartSat Aurora Space Cluster. An ecosystem builder and collaboration facilitator, Tim studied computer science and applied mathematics at Sydney University, and aerospace engineering and hypersonic rarefied flow simulation at Imperial College, London. A keen sailor, runner and motorcyclist, Tim is married with two children to art director Karen Lee.
Annie Handmer is a final year PhD Candidate at the University of Sydney's Faculty of Science, in the School of History and Philosophy of Science. Her research traces the social history of Australian space science projects in order to better understand international and interdisciplinary cooperation, the social construction of achievement, and the nature of the military-industrial-academic complex in Australian space science. In addition to her academic studies, she is on the Advisory Council for the Space Industry Association of Australia, a member of the Space Generation Advisory Council 'Ethics and Human Rights in Space' Project Group, the Space Law Council of Australia and New Zealand, program consultant to the Australian Youth Aerospace Association ASTRA Committee, and is also the host and creator of the Space Junk Podcast.
SpaceWatch.Global is a Switzerland-based digital magazine and portal for those interested in space and the far-reaching impact of the space sector.
This Space Café Australia will be conducted in English on 3rd June 2021 at 10 am CEST.
Reserve your place today.