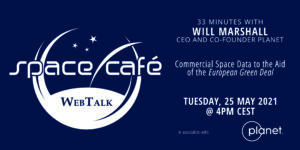 This Space Café WebTalk will feature Will Marshall, CEO and Co-Founder of Planet, in conversation with Torsten Kriening, publisher of SpaceWatch.Global.
The European Commission demonstrated unprecedented leadership in December 2019 when it unveiled its flagship action plan to tackle climate change, the European Green Deal.
Through this strategy, the European Union (EU) will aim to become the first resource-efficient and competitive economy without net emissions of greenhouse gases by 2050. Currently, almost three quarters of the Earth's surface have been altered, the global population of wild species has fallen by 60% in the last forty years and one million of species are at risk of extinction. The severity of this biodiversity loss leads to food insecurity, malnutrition, and economic loss. Beyond the health of our natural ecosystems, the continued rise of global temperatures has caused new records in extreme weather events, from drought, floods and wildfires to hurricanes and tsunamis, endangering the livelihoods of entire populations.
While climate change presents the greatest threat to humanity, there is an arsenal of tools to be leveraged allowing us to fight it. The green transition must be complemented by the continued use and improvement of modern technologies. Since satellites were first used for meteorology in the 1960s, the space sector has continued to innovate, surpassing its capabilities from one year to the next. The improvement of both optical and temporal resolutions of satellites has led to real-time monitoring and better climate forecasting and modelling abilities. Beyond the space sector, satellite data can be used for research, such as training data for machine learning applications, and development, enabling the discoveries of new tools to fight climate change.
This Space Café Webtalk will explore why and how earth-observation companies like Planet should engage in efforts such as the European Green Deal.
The audience will have an opportunity to ask questions in dialogue with Will Marshall.
SpaceWatch.Global is a Switzerland-based digital magazine and portal for those interested in space and the far-reaching impact of the space sector.
This Space Café WebTalk will be conducted in English. Reserve your place today.