by Luisa Low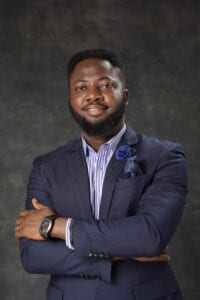 During this week's Space Café, SpaceWatch.Global publisher Torsten Kriening caught up with Nigerian-born Temidayo Oniosun, the Managing Director and Founder of Space in Africa, an African media platform, analytics and consulting company that works in the space and satellite sector.
There are two things you need to know about Temidayo: the first is he has a grand plan, and the second, although in his early career, he has already accomplished more than most do in a lifetime. Since 2011 he has completed degrees at the University of Technology Akure, Bath Spa University and the University of Strathclyde, and is currently studying a doctorate in the United States.
On top of his extensive studies, has also worked on the Space Generation Advisory Council, was co-founder of RadikalHUB, a consultancy for start-ups, and is also the Chief Technology Officer of Ideal Space Technologies, which operates Space in Africa. Temidayo believes now is the time for a home-grown commercial space ecosystem in Africa that is free of vested interests and preconceptions, and that is driven by data analytics.
During this week's Space Café, he and Torsten discuss the launch of Space in Africa's new report on global space budgets.
Global, open-source report reveals countries' varying levels of transparency on space spending
As part of his work with Space in Africa, Temidayo's team recently published an open-source report, Global Space Budgets: a Country-level Analysis that examined government space spending in 106 countries. The report was compiled to paint a comparative picture of the global industry through individual governments' investment in the industry.
Using publicly available data published by space agencies and governments, they also developed a "transparency index", which measured how transparent individual countries are when it comes to publicising their space spending data.
What they found was a wide discrepancy in transparency and openness between countries, which is divided into categories of "openness".
"We introduced the transparency index to explain countries' level of openness regarding space budgets."
They found governments in countries like Germany, Nigeria and South Africa readily publicised information on space budgets and spending, whereas others did not paint so clear a picture either because of a hesitance to publish information publicly or because the data was not easily accessed because of language barriers.
Africa sees increased allocation in spending for space, but it's not the same story for Europe
Across Africa, investment in space is booming and now makes up 0.7% of global space spending thanks to investment in more ambitious space projects, and development of the sector in countries like Kenya, Botswana and Somalia.
The report found that Africa's space budget is increasingly quickly: going from roughly $283 million to $325 million in 2019.
"That's a reasonable increase, but in 2020 it rose to over $500 million.The reason for this is because, aside from the fact that some countries are increasing their space budgets, more countries are also developing space programmes."
Conversely, Europe's space budget was approximately $13.1million in 2018, rising significantly to $17 billion the following year. However, in 2020, it reduced to $15billion.
The reason for this sudden change, Temidayo says, is often due to the commencement or launch of large-scale infrastructure projects, as well as priority shifts.
"In 2019, for example, a country or continent could be investing more in a human spaceflight mission. But then in 2020, they might not have that priority, meaning that a chunk of the budget is gone and, instead, most of their work is going towards management and the operation of satellites and other projects."
Other regions, such as Oceania, which includes Australia – have seen a dramatic decrease in allocation of spending in space, comprising only 0.02% of space budgets according to the report.
So what's behind this? Privatisation could be one driver of decreased government budgets, says Temidayo.
"For some regions, especially if we look at Oceania, the goal is to move away from government-centric space programmes, to commercially driven space sectors."
To listen to Temidayo Oniosun's insights into space budgets, you can watch the full program here:
Space Cafe is broadcast live each Tuesday at 4 pm CEST. To subscribe and get the latest on the space industry from world-leading experts visit – click here.
*Luisa Low is a freelance journalist and media adviser from Sydney, Australia. She currently manages Media and Public Relations for the University of Sydney's Faculty of Engineering.