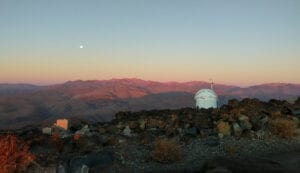 Luxembourg, 4 May 2021. – The European Space Agency (ESA) is building a deep space dish in Australia and an asteroid telescope in South America.
ESA cooperates with the Australian Space Agency to construct a second 35-metre, deep space dish antenna at its existing ground station in New Norcia, Western Australia, 140 kilometres north of Perth, the agency said. The 620-ton antenna, budgeted at €45 million, will help ESA provide communication links to its growing fleet of deep space missions, it says.
ESA's deep-space stations are supporting exploration probes like Gaia, BepiColombo, Solar Orbiter and soon the ExoMars rover, Euclid, JUICE and the space safety mission Hera.
In Chile, ESA started to operate a test telescope to support its planned Flyeye network and detect asteroids and near-Earth objects that pose a risk for the planet, the agency also said.
ESA's second telescope of that kind is hosted at the European Southern Observatory's (ESO) La Silla Observatory in Chile, the agency said, and complements an identical telescope in Cebreros, Spain, not far from Madrid.
Flyeye is an automated telescope to make nightly sky surveys, ESA says, the first in a future network that completely scans the sky and automatically identifies possible new near-Earth objects.