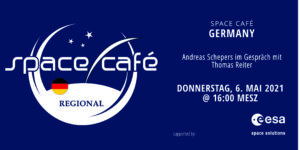 This Space Café Germany will feature ESA astronaut Thomas Reiter, former Director of Human Spaceflight and Operations, and today international coordinator and special advisor to the ESA Director-General, in conversation with Andreas Schepers, Senior Space Communicator and friend of SpaceWatch.Global.
The conversation will revolve about the past, present and future of human spaceflight.
The ISS might come to its end soon, what are the next steps ahead for humans in LEO?
When will see Europeans on the Moon?
The audience will have an opportunity to ask questions in dialogue with Thomas Reiter.
SpaceWatch.Global is a Switzerland-based digital magazine and portal for those interested in space and the impact of the far-reaching space sector.
This Space Café Germany will be conducted in German language. Reserve your place today.