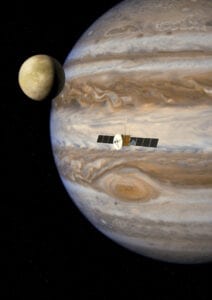 Luxembourg, 28 April 2021. – JUICE is on its way: the JUpiter ICy moons Explorer mission led by the European Space Agency (ESA) left Airbus' satellite integration centre in Friedrichshafen, Germany, and is now on its way to the Large Space Simulator (LSS) chamber of ESA in Noordwijk, Netherlands, Airbus said.
Over the next 12 months, starting with 31 days in the vacuum chamber in the LSS, the spacecraft will be exposed to the environmental conditions of space and will have to prove it is ready for its journey via Venus and Mars to Jupiter and its mission in the Jovian system, Airbus said.
A total of 120 Airbus space engineers and subcontractors will prepare and carry out the tests, Airbus said. In July, the spacecraft will head for Airbus in Toulouse for flight configuration assembly, before the final environmental tests including electro-magnetic compatibility (EMC), mechanical, deployment, and propulsion. It will then be shipped to the launch site in Kourou, French Guiana.
The 6.2 ton JUICE spacecraft will start its 600 million-kilometre journey to Jupiter in 2022.