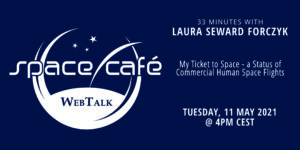 This Space Café WebTalk will feature Laura Seward Forczyk, owner of space consulting firm Astralytical, Atlanta, USA, in conversation with Torsten Kriening, publisher of SpaceWatch.Global.
My Ticket to Space!
This Space Café will focus on the status of commercial human spaceflight. We will try to answer questions on suborbital vs orbital flight or commercial space stations.
The audience will have an opportunity to ask questions in dialogue with Laura Seward Forczyk.
SpaceWatch.Global is a Switzerland-based digital magazine and portal for those interested in space and the far-reaching impact of the space sector.
This Space Café WebTalk will be conducted in English.. Reserve your place today.