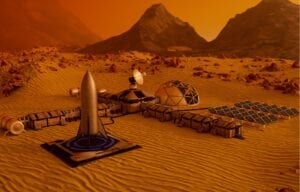 Luxembourg, 27 April 2021. – Elon Musk shocked his audience when he admitted that "a bunch of people will probably die" in the attempt to get to Mars.
"You might die, it's going to be uncomfortable and probably won't have good food," Musk told Peter Diamandis, the founder and chairman of the X Prize Foundation for scientific discovery, according to the New York Post and other media reports.
A trip to Mars would be an "arduous and dangerous journey where you may not come back alive," Musk was quoted.
"Honestly, a bunch of people will probably die in the beginning," he said, while the Mars trip would also be "a glorious adventure and it will be an amazing experience."
"(N)ot for everyone" – "Volunteers only!" he added.