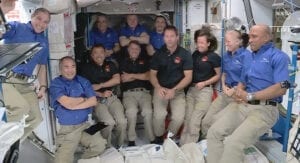 Luxemburg, 26 April 2021. – Welcome to the ISS: the "first human spaceflight mission to fly astronauts on a flight-proven Falcon 9 and Dragon" docked with the International Space Station (ISS) on Saturday.
The four Crew-2 astronauts – Shane Kimbrough and Megan McArthur from NASA, Akihiko Hoshide from JAXA and Thomas Pesquet from ESA – were welcomed by the seven other ISS crew members who opened the hatch between the space station and the pressurized mating adapter and then the hatch to Crew Dragon.
The arriving crew had spent around 23 hours orbiting Earth before catching up with the ISS.
Thomas Pesquet is the first ESA astronaut to fly in space in a vehicle other than the Russian Soyuz or the US Space Shuttle, and the first ESA astronaut to leave Earth from Florida in over a decade, ESA said. His first ISS mission called Proxima saw Pesquet fly to the space station on a Soyuz rocket from Baikonur in Kazakhstan; his expedition broke records for amount of hours spent on research at the time, ESA added.
Both, the Falcon 9 first stage and the Dragon spacecraft were reused by SpaceX.
The Falcon 9 first stage supporting this mission previously launched the Crew-1 mission in November 2020, SpaceX said, and the Dragon spacecraft previously flew two astronauts – Robert Behnken and Douglas Hurley – to and from the ISS during SpaceX's demo-2 mission in 2020.