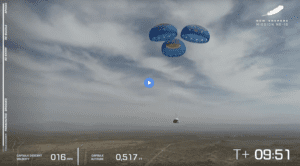 Paris, 16 April 2021. – Beautiful start, beautiful landing: Blue Origin successfully completed its 15th New Shepard test mission, on its way now to fly astronauts and customers to the edge of space, the company owned by Jeff Bezos said.
After its successful lift-off, the crew capsule with a dummy passenger reached an apogee of more than 100 kilometers, before returning, with parachutes, to its launch site in Texas.
For the first time, personnel standing in as astronauts entered the capsule prior to launch.
They conducted a series of tests from within the capsule, including a comms check with the Capsule Communicator, procedures for entering and exiting the capsule, and pre-launch preparations within the capsule, Blue Origin said.
Following the crew capsule landing, the astronauts also rehearsed post-flight procedures, hatch opening, and exiting the capsule.
Onboard also: Mannequin Skywalker, a puppet that was New Shepard's first passenger, and more than 25,000 postcards from Club for the Future, a nonprofit organisation founded by Blue Origin.