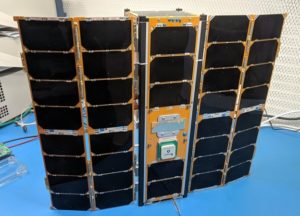 Luxembourg, 1 April 2021. – The two Australian firms Gilmour Space and Fleet Space are joining forces to launch a small nanosat fleet, Gilmour announced.
"We have signed a contract to launch six Fleet Space Centauri nanosatellites on our Eris rockets in 2023," said Adam Gilmour, the CEO of Gilmour Space. Gilmour is planning to launch its first commercial payloads to orbit next year.
"This launch is going to involve an Australian-built payload in an Australian-built satellite, on an Australian-built rocket," added Flavia Tata Nardini, CEO of Fleet Space.
Fleet Space is building an Internet of Things (IoT) constellation with currently five nanosatellites in Low Earth Orbit (LEO). Fleet Space launched Australia's first commercial nanosatellite in 2018 and is planning a constellation of 140 satellites. The company was founded in 2015 and is backed by Blackbird Ventures, Horizons Ventures and Mike Cannon-Brookes.