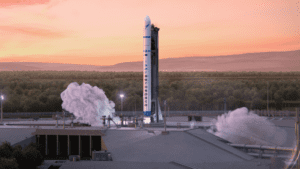 Paris, 23 April 2021. – Airbus Defence and Space will launch a small Earth observation satellite with Isar Aerospace's Spectrum launch vehicle, the company said.
Airbus Defence and Space committed to one launch, plus options, Isar Aerospace said. Airbus Ventures is a co-investor in the startup.
"This constitutes the first major launch contract between an established space company and a privately financed European launcher company," the Munich-based startup said. "This launch service agreement shows the demand of European companies for a flexible, cost-efficient and purely European alternative to bringing satellites into space."
Isar Aerospace added that it already counts customer inquiries amounting to more than half a billion euros for its 1.2 tons LEO vehicle.
Isar Aerospace was founded in 2018, employs more than 120 people from 30 nations today and is privately financed by former SpaceX VP Bulent Altan as well as world-leading Venture Capital firms including Airbus Ventures, Apeiron, Earlybird, HV Capital, Lakestar, UVC Partners and Vsquared Ventures.