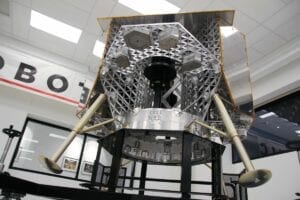 Paris, 23 April 2021. – The German Aerospace Center (DLR) wants to land a radiation detector on the Moon onboard Astrobotic's Peregrine in 2021, Astrobotic said.
DLR will send the detector to measure key radiation data on the flight to the Moon and on the lunar surface ahead of the upcoming NASA Artemis missions, Astrobotic said.
With this agreement, DLR becomes Astrobotic's third international space agency customer, including Agencia Espacial Mexicana and NASA, to join Astrobotic's manifest of 16 commercial customers on Peregrine Mission One.
The German payload will make history as the first DLR instrument to be commercially delivered and operated on the surface of the Moon, the Pittsburgh-based company said.
The sensor will be operated by the team members at the Institute of Aerospace Medicine supported by the Microgravity User Support Center in Cologne, Germany, with commands and data going to and from the Moon via the Astrobotic Mission Control Center in Pittsburgh, Astrobotic said. The sensor will be integrated with its Peregrine lunar lander, set to launch in late 2021 at Cape Canaveral, Florida.