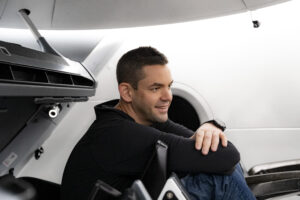 Luxembourg, 31 March 2021. – Inspiration4, "the world's first all-civilian mission to space", named the remaining two members of the four-person crew that will undertake its "historic voyage to the stars" later this year, the mission management said.
Christopher Sembroski, an employee at Lockheed Martin and a U.S. Air Force veteran, and the entrepreneur, pilot and educator Sian Proctor will join the mission and the previously announced crew member Hayley Arceneaux, a young physician assistant at a children's hospital, and commander and mission sponsor Jared Isaacman.
Inspiraton4 wants to launch a Dragon spacecraft on SpaceX's Falcon 9 rocket later this year.
Isaacman, the 38-year-old founder and CEO of Shift4 Payments, sponsors the mission and donates the three crew seats to raise money for the St. Jude Children's Research Hospital in Memphis, Tennessee.