by Blaine Curcio
In this day and age of constant internet connectivity, thousands of notifications being thrown at us, and the ever-present threat of Covid-19, it can be easy to forget that we are in fact in Lent, the period between Ash Wednesday and Easter Sunday, with the latter being the day that Christians the world over commemorate the resurrection of Jesus. While not particularly religious myself, recent news around Chinese launch startup LinkSpace, occurring during this time of year, can only be described as a resurrection.
To end the religious analogy and get to the space part: LinkSpace was China's very first commercial launch company. Having been founded by wunderkind Hu Zhenyu (date of birth: February 1993) in 2014 (yes, when he was 21), LinkSpace was arguably China's first virally-famous space company. Hu's notoriety, even in the west, was such to where he was named to the Forbes 30 under 30 in 2018 (short interview with Hu here).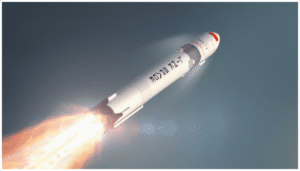 Despite having been first out of the gate among the now seemingly 50 commercial launch companies in China (the number is actually closer to 20), LinkSpace has apparently struggled since then. The company has raised very limited additional funding (none since 2017, and total of some tens of millions of USD at most) and not launched any rockets into orbit, despite competitors founded at later dates, such as LandSpace and iSpace, now having reached several hundred million USD in funding and having reached orbit, or come close.
Indeed, over the past few years, the only news we had really heard from LinkSpace was of some collaboration with Jiuzhou Yunjian, another commercial launch company with a focus on liquid propulsion. This China space industry correspondent, for one, was getting close to writing off LinkSpace as dead.
Until now. In an apparent boost of some kind, LinkSpace posted a lot of job openings last week, for the first time in a long time. The company is hiring a chief rocket engineer, liquid engine engineer, navigation control engineer, and a whole bunch of other roles. A clear indication of the company's offbeat persona, the 4th and 5th (English) word in "working environment" are "geek culture" (极客精神). The company also provides unlimited snacks, drinks, and access to test launches. Not a bad deal, potentially.
While it is still too early to re-elevate LinkSpace to the top-tier of Chinese commercial launch companies, the hiring spree appears to indicate a resurrection of sorts. For now, your correspondent will be on the lookout for additional updates from LinkSpace, China's very first commercial launch company.