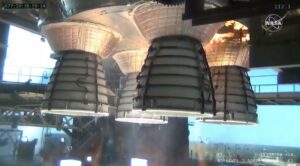 Paris, 19 March 2021. – The U.S. space agency NASA has passed a critical test for the core stage of its Space Launch System (SLS), NASA said.
The "largest rocket element NASA has ever built" fired its four RS-25 engines for 8 minutes and 19 seconds at NASA's Stennis Space Center near Bay St. Louis, Mississippi, it said. The successful static hot fire test is a critical milestone ahead of the agency's Artemis I mission, which will send an uncrewed Orion spacecraft on a test flight around the Moon and back to Earth, paving the way for future Artemis missions with astronauts, NASA said.
Engineers designed the Green Run test to gradually bring the SLS core stage to life for the first time, culminating with the hot fire. The team will use data from the tests to validate the core stage design for flight.
"The SLS is the most powerful rocket NASA has ever built, and during today's test the core stage of the rocket generated more than 1.6 million pounds of thrust within seven seconds. The SLS is an incredible feat of engineering and the only rocket capable of powering America's next-generation missions that will place the first woman and the next man on the Moon," said acting NASA Administrator Steve Jurczyk. "Today's successful hot fire test of the core stage for the SLS is an important milestone in NASA's goal to return humans to the lunar surface – and beyond."