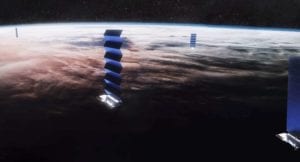 Paris, 19 March 2021. – NASA and SpaceX have signed an agreement to avoid collisions between NASA and Starlink satellites, the agency said.
The focus of the agreement is on conjunction avoidance and launch collision avoidance between NASA spacecraft and the large constellation of SpaceX Starlink satellites, as well as related rideshare missions, NASA said.
"With commercial companies launching more and more satellites, it's critical we increase communications, exchange data, and establish best practices to ensure we all maintain a safe space environment," said acting NASA Administrator Steve Jurczyk.
SpaceX has agreed that its Starlink satellites will "autonomously or manually" maneuver to ensure the missions of NASA science satellites and other assets can operate uninterrupted from a collision avoidance perspective, NASA said.
"Unless otherwise informed by SpaceX, NASA has agreed to not maneuver its assets in the event of a potential conjunction to ensure the parties do not inadvertently maneuver into one another."
SpaceX has about 1,200 Starlink satellites in orbit.