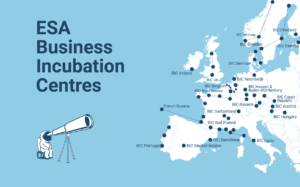 Paris, 8 March 2021. – The next five years, and the next 50 start-ups: The Business Incubation Center (BIC) of the European Space Agency (ESA) in Switzerland extended its contract as a hub for space innovation, the center said.
With the contract extension for ESA BIC CH for the next 5 years, "(w)e are delighted to announce that we will support and boost another 50 start-ups with a space connection", the BIC said. ESA's new Director-General, Josef Aschbacher, and the head of the Telecommunications & Integrated Applications directorate of ESA, Elodie Viau, joined the meeting.
The ESA BIC CH is managed by the ETH Zurich university in collaboration with VentureLab, Impact Hub Zurich and AP Swiss. It is home to hallmark projects like ClearSpace, a start-up that develops the world's first active debris removal mission, ClearSpace-1.
ESA maintains and supports a network of 60 space business incubators and hubs all across Europe.