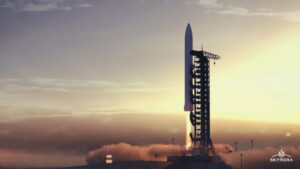 Paris, 25 March 2021. – An ESA boost for two UK companies: the European Space Agency (ESA) awarded a total of €10.45 million to the space firms Orbex and Skyrora, the agency said.
The co-funding is part of ESA's Boost! Program which provides co-funding, expert advice and testing facilities to help entrepreneurs to develop and prepare new space transportation services, ESA said.
Orbex wants to offer low Earth orbit (LEO) launches for payloads of up to 150 kg on its two-stage microlauncher Prime.
Skyrora plans launch services to low Earth Sun-synchronous and polar orbits for payloads of up to 315 kg with its three-stage microlauncher Skyrora XL.