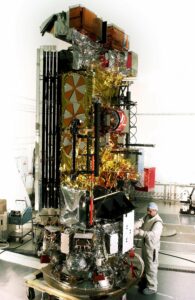 Paris, 25 March 2021. – A decommissioned weather satellite that was built by Lockheed Martin and launched in 2002 broke up in orbit, Space News and other specialized media reported.
The NOAA-17 satellite which went out of service in 2013 broke up in its polar orbit on 10 March, the U.S. Space Force's 18th Space Control Squadron confirmed to Space News.
The squadron tracked 16 pieces of debris associated with the satellite, and that there was no evidence the breakup was caused by a collision, the report said.
"At this time, the debris poses little threat to the International Space Station or to any other critical space assets," the National Oceanic and Atmospheric Administration (NOAA) stated to Space News.
NOAA had been notified of the break-up by NASA's Orbital Debris Program Office, the report said.