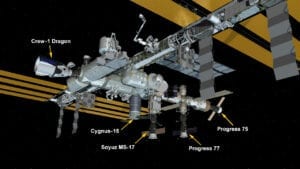 Paris, 23 February 2021. – Two more: Northrop Grumman has ordered two more Cygnus cargo modules from Thales Alenia Space, the joint venture between Thales and Leonardo said in Turin yesterday.
Thales will deliver pressurized cargo modules for the 18th and 19th Cygnus cargo mission, the company said, a contract extension that "reaffirms the longstanding collaboration between the two companies".
Cygnus comprises two elements: a Service Module, built by Northrop Grumman, and an enhanced Pressurized Cargo Module (PCM), built by Thales Alenia Space. The first contract between the two in 2009 was for the delivery of nine modules, while the second contract in 2016 saw an additional nine modules.
Since the end of 2015, the enhanced Cygnus configuration features a more efficient design, able to accommodate more payload volume and weight (over 3,5 tons). Fifteen cargo modules plus a demo have been launched to date, four in the original version and eleven in the enhanced version.
The 15th mission to deliver supplies to the International Space Station (ISS), launched by an Antares rocket from the Wallops Island, Virginia, on 20 February, arrived yesterday at the ISS, bringing 8,000 pounds of research hardware and supplies.