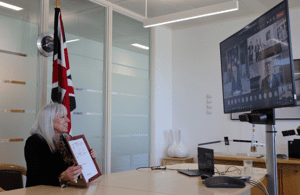 Paris, 24 February 2021. – Bridge to down under: The UK and Australia want to cooperate in space and signed an agreement called Space Bridge, UKspace said yesterday.
The UK-Australia Space Bridge framework agreement that UKspace and the Space Industry Association of Australia (SIAA) signed could provide "significant new opportunities for space companies in both countries", the British space agency said.
The new partnership – designed to increase knowledge exchange and investment across the two countries' space sectors – "is the first of its kind in the world", UKspace said. "It is a major milestone in space collaboration between the two nations which dates back to October 2018 when a Memorandum of Understanding was signed by the UK Space Agency and Australian Space Agency."
The arrangement enhances cooperation between the UK Space Agency, UK Department for International Trade, Australian Trade & Investment Commission, and the Australian Space Agency coordinating opportunities for the UK and Australian governments and companies to work on space-related activities, including sharing Earth Observation data to collaborating on robotic and artificial intelligence.