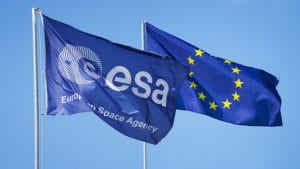 Paris, 25 February 2021. – European States and institutions set the roadmap for their European Conference on Space Traffic Management (STM) to be held in July.
The preparation of the conference, which was requested by the EU-ESA Space Council in November last year, is moderated by Germany, which had initiated to put STM on the agenda of EU, ESA and its respective Member States.
"We now jointly set the course for defining Europe's position on STM", said Kai-Uwe Schrogl from the German Ministry for Economic Affairs and Energy. The preparation, attended by 25 Member States as well as the Executive of ESA, the European Commission, the European External Action Service and the EU Council Secretariat, consolidates the joint European view on the relevance of STM.
The preparatory group is to meet again in March, to hold a hearing that provides the opportunity for European institutions, Member States, industry, academia, think tanks, and international partners to present their views on STM.
"It is foreseen that the European STM Conference would take place in July, just when the Slovenian EU Council Presidency kicks off", Tanja Permozer from the Slovenian Ministry of Economic Development and Technology said.
Related articles:
Europe sets course to prepare its position on Space Traffic Management (STM) conference
#SpaceWatchGL Interviews: Kai-Uwe Schrogl "A Challenging Presidency – A Bright Perspective For Europe In Space"
EU to launch Spaceways study on Space Traffic Management