Interview by Ray Stott of SpaceSpecialists Ltd, co-produced by ATOS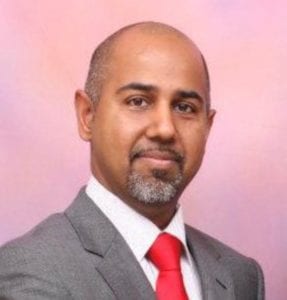 Mohammed Ali also "Ali" for short, please could you introduce yourself
I am "Ali" from Atos IT Solutions and Services GmbH and have worked in the space industry since 2000 previously working in the Aerospace sector. I have a Bachelor's degree in Electronics & S/W Engineering, an MPhil in Physics and Astronomy with Airbus (where I filed a Patent) and an MBA. My first space project was Inmarsat 4 where I was the leading expert on Joint Test Action Group (JTAG) which is an industry standard for verifying designs and testing printed circuit boards after manufacture.
I am currently working in Vienna, Austria and for the last three years on the OneWeb programme. In 2019 we delivered sixty systems of Electrical Ground Support Equipment (ESGE) to the OneWeb spacecraft production sites in Toulouse, France and Florida, USA as well as to the three launch sites (French Guiana, Baikonur and Vostochny).
My current position is 'Director of Programmes and Strategic Engagement' for all Atos spacecraft programmes globally, supporting our sites in the Czech Republic, Roumania, Croatia, Austria and Germany.
Atos is involved with Space & Avionics, as well as 'Big Data' and security (Mission Critical Systems) with our headquarters in the beautiful city of Vienna, Austria at a site employing 120+ people approximately 4 km from the city centre.
What space projects are you currently involved with at Atos and are there any previous ones noteworthy to mention?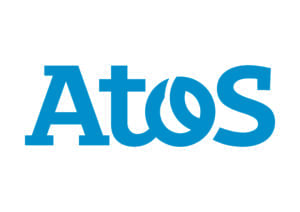 Our projects are quite varied and specific at the same time, ranging from the large OneWeb satellite EGSE constellation project where we have won the 'Best EGSE Provider', Sentinel 5, Biomass, many ESA programmes, Galileo next generation and our generic capability in power and RF test systems as well as Instruments and Software. We also provide the Jupiter Icy moons Explorer (JUICE) scientific project EGSEs.
I was previously involved as AIT Project Manager on the European Space Agency (ESA) Gaia project managing all flight hardware and test equipment, including the brainchild to develop a 'dummy bench' to the same scale as the flight Gaia telescope in order to facilitate wiring harnesses to be the exact length for the flight hardware, with the flexibility to add equipment as needed to verify the functionality of the satellite. My main responsibilities were specifying and procuring the EGSEs for both the spacecraft lower part (bus) and upper part (scientific telescope payload), developing the test scripts and managing the AIT (Assembly, Integration and Test) phase including budgets and resources.
This space telescope launched in 2013, has recently been in the news "ultimate book of the heavens – a catalogue of stars in our Milky Way Galaxy", since it has plotted the precise positions of more than 1.8 billion stars and for most of these, it also knows their exact distance from Earth and their movement across the sky. (https://www.bbc.co.uk/news/science-environment-55178257).
What made you get into the space industry and start working with satellites?
This was by pure chance, I was towards the end of my studies at Leeds University in the UK and saw an advert for a Graduate Manager scheme at Racal Defence in Leicester, where I was successful since I correctly answered the interview question about the 'doppler effect' leading to 2 years with the company as a C++ programmer and assigned to specific test areas pioneering JTAG technology.
I was headhunted by Airbus, Stevenage, UK for an interesting position involving JTAG and was then exposed to the space sector. I have also worked with Unmanned Air Vehicles (UAV) in 2009 at Cardington, near Bedford, UK as Hybrid Air Vehicles Programme Manager. This involved many cold long winter's days testing the airships and we won the LEMV airship programme for the US Army. We had our successful first flight in September 2012.
What are the future Electrical Ground Support Equipment (EGSE) trends in the space market?
Atos is a global, multi-billion dollar company whose services include Cyber Security and Big Data, who in 2018 acquired the Space and Avionics group from Siemens. We are part of Public Safety and Security (PS&D).
We make and supply EGSE and the market is moving from traditional ESA spacecraft progammes to satellite mega-constellations including Blue Origin, SpaceX, OneWeb and new ones on the horizon. A key change is the quantity traditionally required has been 3-8 EGSEs per programme, however now we supply 60-70 EGSEs called Power Special Check-Out Equipment (SCOEs) and 20 RF SCOE systems for the OneWeb programme.
The trend is definitely mass manufacturing/production of EGSE just like for the spacecraft market, where two spacecraft per day are typically produced (think about that – that is one per 8-hour shift!)
EGSE are needed at the early stages of the satellite programmes and we generally need the first sets of EGSE ready 7-8 months from project Kick-Off (KO). The commercial satellite market demands for satellite availability are also changing from the traditional 3-4 years ,to 1 -2 years from KO.
Manufacturing has to therefore adapt. We at Atos have been successful in fully digitised test systems and automated self-test equipment. The market is now for the mega-constellations with high demand in a short time.
ESA spacecraft programmes normally have full, very detailed specifications with clear project milestones such as Preliminary Design Review (PDR), Critical Design Review (CDR) and Final Delivery Review (FDR) etc. The commercial satellite programmes involve a more iterative process – not everything is finalised due to commercial time pressures where interfaces and functionality are constantly changing, some within weeks! Managing customer Change Requests effectively and smoothly with minimum cost impacts is the key to success.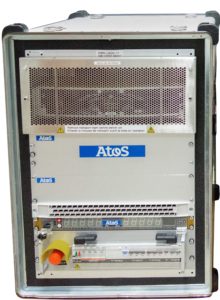 Our digital EGSE can be adapted quickly within weeks (rather than months) with the solutions developed, tested and available, therefore saving the satellite programme considerable time, thanks to our digital solutions.
The range of typical EGSE from Atos consists of
POWER: Power/Battery Simulator SAS including Launch EGSE with Battery Charger features allowing tens of satellite batteries to be charged, trickle charged and monitored simultaneously.
RF: Payload and TT&C test systems and RF Suitcases
INSTRUMENT: Bus and Loader (Solar Array flash test safe loads)
CCS: Central Checkout System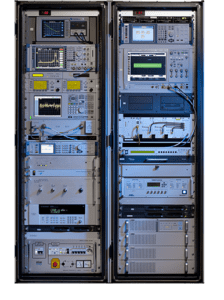 With our innovative multiplexing, we can interface with, say, 36 satellites simultaneously for battery charging, saving a lot of set-up and schedule time.
I understand that Atos has developed its own product line for EGSE, can you tell me more?
The first product, POWER Front End (Proust-FE), provides pyrotechnic and power supplies with highly accurate measurement systems for digital and analogue discrete measurements including also self-tests
Our new product, delivered in 2017 called 'univerSAS®- Solar Array Simulator' is a fully digital power supply with 7 KW power output, with version 2 in 2021 providing up to 16 KW. We have developed this product range due to the satellites becoming increasingly more powerful. They provide excellent measurement accuracy.
A key feature for OneWeb is the built-in scope measurements – you do not need a separate oscilloscope to perform measurements. Measurement plots are instantly made internally and there is no loss of signal or degradation which has proved to be a very useful feature.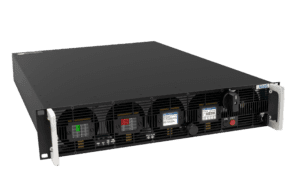 Our 'univerSAS®is a fully digitised power supply. Design changes can be made much faster using software as opposed to requiring another production of test hardware.
How do these products make your offerings competitive in the marketplace?
Our key advantage is that previously supplied systems may consist of up to 3 Non-Commercial Off The Shelf (COTS) racks of equipment and these can be replaced within ½ an Atos equipment rack, with the added advantages of the 'univerSAS®' providing rear input and output panels for Power Distribution Unit (PDU) and encrypted device connections.
Compared to a traditional COTS system offered by our competitors, the Atos solution provides 2.5x less mass and size and therefore is significantly cheaper, with the added advantage from lower hardware costs, less space required and less import tax for satellite launch site processing. You can also easily move the EGSE with two people and a small van rather than transporting the larger COTS style EGSE using a forklift and truck for logistics.
Our competitive product range has been noticed by senior Airbus executives, in particular the power supply EGSE which is compact and lightweight– it is the industry's biggest challenge to keep prices low and the industry cannot believe we at Atos achieved this. We did and it looks simple, however it is quite complicated on the inside!
Ali, what are you most passionate about?
I like the 'buzz of meeting the customer demands' to make sure the satellites are launched on time due to the tight timescales involved and the need to be an 'outside of the box' thinker for the Programme Management aspects and at the same time focus on the technical and human issues (e.g. visas for foreign market entry, staff medical exam needs, travel arrangements etc.) that make every day unique and exciting to go to work.
One of my passion is the deeper understanding of Psychology and Philosophy and it all started with my desire to understand the human behaviours in societies and organisations to enable and develop high performance teams and reduce loss of time in complex projects which leads to cost savings. The journey took me to places I would never have imagined and embarked on the journey to writing my first book "Path to Absolute Intelligence".
I am currently a third of the way through writing the book which involves a 4-quadrant intelligence model I developed over a decade of research and describes the intelligence in the physical and the spiritual domain.
The interesting aspect of this is that is we use both of these domains in our daily lives, but we do not actually easily recognise this fact. We use a lot of our gut instincts (in the spiritual domain) for decision making. This can be attributed to a large element of faith or having a gut instinct when faced with challenges.
Different energy levels are involved, and it is harder to go from the negative to positive levels. Self-confidence is the key and maintaining a healthy mindset which leads to minimising the loss of time and productivity which is very important for project and programme management for senior executives.
What are your hobbies and interests?
I have four passions; travelling (I am currently exploring the world and on my 32nd country on the list!), understanding cultures and mindsets (I really enjoy the aspect of working in global operations involving many different cultures and how they operate holistically) and thirdly reading (I am an avid reader at least reading one book a week) and lastly I really enjoy cycling – I cycled from London to Paris in 2010.
What would you like to say to the world?
The phrase I would like to recommend to everyone is "kill your ego's and experience the universe" it is very, very powerful, if you embrace it!
We are masters in clogging our minds with excess negative information created by our very own ego's which are forever trying to please our never-ending desires, which I call noise. Just like any electronic device, the system will not operate efficiently unless you eliminate/minimise the noise. This applies to the human minds, the more noise your mind is processing, the less room you have for thinking clearly and listening to your inner gut instincts.