by Blaine Curcio and Jean Deville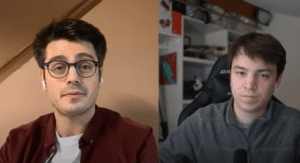 As part of the partnership between SpaceWatch.Global and Orbital Gateway Consulting we have been granted permission to publish selected articles and texts. We are pleased to present "Dongfang Hour China Aerospace News Roundup 21 Dec – 28 Dec 2020".
Hello and welcome to another episode of the Dongfang Hour China Aero/Space News Roundup! A special shout-out to our friends at GoTaikonauts!, and at SpaceWatch.Global, both excellent sources of space industry news. In particular, we suggest checking out GoTaikonauts! long-form China reporting, as well as the Space Cafe series from SpaceWatch.Global. Without further ado, the news update from the week of 21-27 December 2020.
Long March 8 Launch
In last week's episode, we mentioned the planned launch of China's first Long March-8, which had been scrubbed late last weekend. The launch successfully took place this week, with the Long March-8 launched for the first time at 12:37pm local time on 21 December. As we discussed in more detail on last week's episode 12, the payload was diverse, with commercial companies, an Ethiopian satellite, and a couple of government/CAS payloads. Some additional information was publicized in the days following the launch that are worth noting.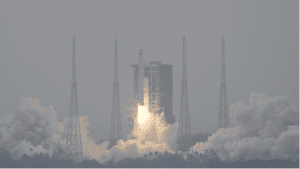 First, the Tianqi-8 satellite from Guodian Gaoke was apparently launched partly in partnership with Ping'an, possibly China's largest insurer. There's a great table in this article (Chinese) that shows the different satellites in the Tianqi constellation, with several indicating cooperation with cities or companies. For example, the 2nd row is also called Wenchang Network-1 (Wenchang being the city of the spaceport in Hainan), row 3 includes the city of Cangzhou, row 6 includes the city of Xinzhou, row 10 (Tianqi-8) is Ping'an-1.
This gives us some insights into the way that Guodian Gaoke has collaborated with a variety of stakeholders to build out what is a larger constellation. It will be important to see to what extent the sum of the parts are greater than the whole, i.e. to what extent is Guodian Gaoke's management of the whole network going to give them a product that can easily be sold to a larger number of end users, i.e. every major city in China.
Another satellite of note on the LM-8 launch was the Haisi-1 satellite from Spacety, which was a sort of mini-SAR satellite. SAR remains a relatively less-developed part of the EO sector in China, with optical being a lot more developed. Following an exhibition at a recent industry conference in which Spacety marketed themselves as a leader in SAR, this is an area to watch for the company moving forward.
News announcements regarding the calendar of the Chinese Space Station
On December 25th, a ceremony was held in Changsha for the transfer of the Shenzhou-10 capsule to the Province of Hunan. Shenzhou 10 is a mission that took place in 2013, sending a crew of 3 taikonauts on-board the Shenzhou spacecraft to dock with the Tiangong-1 experimental space station.
While the mission took place 7 years ago, the idea was to transfer the return capsule to the province of Hunan to be displayed in 2021, which is a highly symbolic year in modern chinese history. It is the 100th anniversary of the foundation of the Chinese communist party. And Hunan (and notably Shaoshan) is symbolic as the birthplace of former chairman Mao Zedong. Mao Zedong is considered here as one of the forefathers of the Chinese space program (as the initiator of the two bombs – one star program), although this is disputed by some historians.
Before the ceremony, a journalist of China Space News had the opportunity to interview one of the high profile attendees of the day, Zhou Jianping, the chief engineer of China's crewed spaceflight program. Zhou Jianping gave some very useful insights on the upcoming timeline for the Chinese Space Station, including:
Launch of the core module of the CSS in the first half of 2021, on-board a Long March 5B (Y2)
Following which, the Tianzhou-2 cargo spacecraft would follow suit, as well as the Shenzhou-12 crewed spacecraft mission. The timeframe of these launches were not mentioned, but a good guess would probably be the 2nd half of 2021.
Following this, a Tianzhou-3 and Shenzhou-13 missions would be launched.
These launches would represent the "key technology verification phase" (robotic arm, EVA, power generation), and once complete would be followed by two more Tianzhou/Shenzhou double launches, as well as the launch of the two other experimental modules. All of this would take place within 2 years according to Zhou Jianping, and would represent 11 launches. This would mark the completion of the Chinese space station and beginning of its operational phase.
China Space News article on Moon resources
China Space News published a piece last week summarizing the economic benefits of lunar resources. It points notably towards:
Helium 3: a isotope of helium, which is seldom found on Earth but is more common in lunar regolith. H3 is considered by nuclear physicists as a good candidate for nuclear fusion, one of the energy sources suggested for lunar settlement.
Lunar Anorthosite (silicon, aluminum, calcium, and sodium), crystalline rocks (magnesium), KREEP (potassium, rare earth elements, and phosphorus)
Ilmenite: ore of titanium found in the lunar seas (dark areas of the moon), can be used to extract titanium, an essential metal in the aerospace industry.
While not much of the China Space News article is really news, it's interesting to note that it comes a week after the end of the Chang'e 5 mission, which successfully returned lunar samples to Earth. It's also worth noting that while some of the economic benefits mentioned in the article seem a bit exaggerated (for example China is already one of the largest producers of titanium & of rare Earth elements), it does suggest that one of the main objectives of the lunar exploration program is to investigate the viability of lunar resources mining. This has been reflected already in multiple interviews of Chinese space industry officials in the past (see the excellent piece by Namrata Goswami in The Diplomat).
China Satcom further verticalizing & pivoting to mobile broadband: Interview of Sun Jing (GM of China Satcom)
Interesting interview of Sun Jing on the 24th of December, discussing the changes in China Satcom's strategy in recent years. Sun mentions in 2018, ChinaSat acquired the first-class national basic telecommunications license, at which time they chose to work alongside the telecom operators to cover areas not possible to cover with terrestrial fiber, as opposed to potentially competing with them as a telco.
In particular, Sun emphasizes the extent to which ChinaSat is focusing on IFC, including the recent founding of Xinghang Hulian (星航互联), an IFC-focused subsidiary.
Sun also highlighted ChinaSat's plans to deepen integration with 5G networks. This is/should be more near-term than would be an opportunity in the west, in that the 5G network in China is already largely built out. Satellite may have an opportunity to bridge the gap, but it would really require a lot, lot more capacity than ChinaSat has at the moment, especially if they also plan to address IFC demand with ChinaSat-16 Ka-band capacity. The article noteworthily does not include the word "constellation" (星座). The only way that ChinaSat would really serve significant amounts of 5G type demand would be via a broadband constellation.
Completion of the static tests of the Chinese MA700 regional jet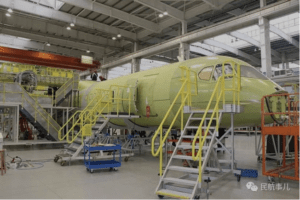 Xi'an Aircraft Corporation completed the static testing of its next generation regional turboprop aircraft, the MA700 (MA = modern ark or 新舟 in Chinese), on December 19. Static testing is a critical part of the technical verification stages where an aircraft manufacturer verifies that the aircraft is able to resist the mechanical stresses predicted during the design phase. It generally includes destructive testing, and representative of the balance the aircraft company has to find between weight and stress-resistance.
While no video of the stress test was released, some images are available to give an idea of what a static test actually is. Sometimes described as "torturing" the aircraft, hundreds of cables put various parts under various heavy loading configurations, and sensors all over the aircraft measure the mechanical stress. Videos of what this looks like is available on Boeing and Airbus aircraft (see here and here)
With the completion of the static tests, the MA700 should be able to begin flight testing in 2021.
---
This has been another episode of the Dongfang Hour China Aero/Space News Roundup. If you've made it this far, we thank you for your kind attention, and look forward to seeing you next time! Until then, don't forget to follow us on YouTube, Twitter, or LinkedIn, or your local podcast source. 
Follow DongFang Hour on Twitter @DongFangHour , Youtube or on https://dongfanghour.com
Blaine Curcio has spent the past 10 years at the intersection of China and the space sector. Blaine has spent most of the past decade in China, including Hong Kong, Shenzhen, and Beijing, working as a consultant and analyst covering the space/satcom sector for companies including Euroconsult and Orbital Gateway Consulting. When not talking about China space, Blaine can be found reading about economics/finance, exploring cities, and taking photos.
Jean Deville is a graduate from ISAE, where he studied aerospace engineering and specialized in fluid dynamics. A long-time aerospace enthusiast and China watcher, Jean was previously based in Toulouse and Shenzhen, and is currently working in the aviation industry between Paris and Shanghai. He also writes on a regular basis in the China Aerospace Blog. Hobbies include hiking, astrophotography, plane spotting, as well as a soft spot for Hakka food and (some) Ningxia wines.