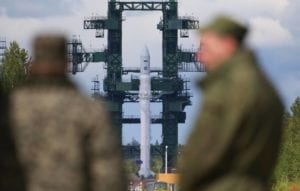 Paris, 15 December 2020. – Russia's Aerospace Force conducted a second test launch of the Angara-A5 heavy carrier rocket, the Russian news agency Tass reported.
The heavy rocket was launched with a dummy payload from the Plesetsk space center the Arkhangelsk Region in northwestern Russia on Monday, the press service of the Russian Defense Ministry reported, according to Tass.
The Plesetsk spaceport will be able to conduct up to 20 launches of the latest Angara carrier rockets annually after the works planned before 2025 are completed, Russia's Defense Minister Army General Sergei Shoigu said earlier this year.
The Angara is a family of next-generation Russian space rockets and consists of light, medium and heavy carrier rockets with a lifting capacity of up to 37.5 tonnes. The new family of rockets uses "environmentally-friendly propellant components", according to earlier Tass reports.