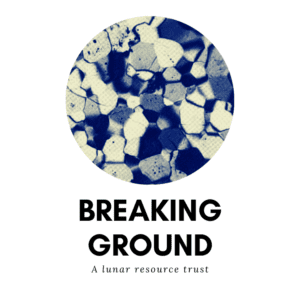 Berlin, 14 December 2020 – Last week, the Open Lunar Foundation announced a new initiative: Breaking Ground, a lunar resource trust. The purpose of the trust is to steward and demonstrate formal and effective institutional management of lunar resources between different stakeholders. In order to fulfill this goal and explore different resource management regimes, the trust will be purchasing lunar regolith from lunar transport, lander and extractive companies.
Today, Breaking Ground is announcing that it has signed its first Memorandum of Understanding with Intuitive Machines (IM). The MoU lays the foundations for an ongoing collaboration between the two organizations to pursue their mutual interest in understanding the operational and rights frameworks for long term sustained presence beyond Earth.
IM is a premier provider and supplier of space products and services that enables sustained robotic and human exploration of the Moon and beyond. NASA has awarded IM two contracts with the space agency's Commercial Lunar Payload Services (CLPS) initiative to support NASA's unmanned Moon missions, as part of the Artemis program, building capabilities toward human lunar expeditions from 2024. IM will launch its first Nova-C Moon lander, IM-1, in the fourth quarter of 2021 and the subsequent mission will launch the following year.
"The trade policy and regulatory framework for commerce at the Moon have many unknowns," said Timothy Crain Ph.D, Vice President of Research and Development at Intuitive Machines. "As a company at the forefront of lunar transportation and infrastructure we are committed to working with the community to develop normative frameworks for coordination and shared agreements. These are the building blocks for future trade in the solar system. We're excited to be working with Breaking Ground to explore this exciting new domain."
With this kind of partnership, Breaking Ground aims to demonstrate thoughtful new kinds of transactions and asset management as we all embark on catalysing the lunar economy. The goal is to discover a middle ground between the different actors and philosophies involved in lunar resources extraction. Breaking Ground does not seek to be a universal solution, but rather to prototype effective resource management in order to ensure that the management of the Moon reflects the lessons we have learned about resource management here on Earth, while continuing to innovate.
"Intuitive Machines is a high integrity organization that believes in commercial activity but, I believe, also genuinely wants to see a thriving society as we create our first off-world settlements. They're a perfect partner with whom to engage substantial questions of resource management in the lunar context," said Jessy Kate Schingler, a trustee of Breaking Ground.
To read more about Breaking Ground: https://www.openlunar.org/library/announcing-breaking-ground-a-lunar-resources-trust
For more information, please contact: [email protected]