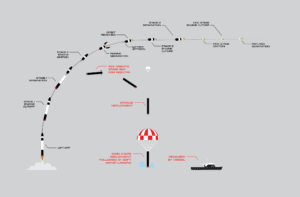 Paris, 6 November 2020. – Rocket Lab will attempt, for the first time, to bring the first stage of an Electron launch vehicle back to Earth after launch, the company said.
Rocket Lab will attempt to recover the first stage during its 'Return to Sender' launch, scheduled for lift-off in mid-November. It intends to use a parachute system for a controlled water landing and then wants to collect the first stage with a recovery vessel.
The mission would mark "a major milestone in Rocket Lab's pursuit to make Electron a reusable rocket to support an increased launch cadence for small satellite missions," the company said.
"Recovering the first stage of a small launch vehicle is uncharted territory," Peter Beck, Rocket Lab's founder and CEO said. "What we're trying to achieve with Electron is an incredibly difficult and complex challenge, but one we're willing to pursue to further boost launch cadence and deliver even more frequent launch opportunities to small satellite operators.".
"Bringing a whole first stage back intact is the ultimate goal, but success for this mission is really about gaining more data," Beck said. "Regardless of the condition the stage comes back in, we'll learn a great deal from this test and use it to iterate forward for the next attempt."