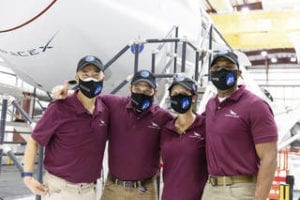 Luxembourg, 12 November 2020. – After years of designing, developing, and testing, NASA has certified SpaceX's Crew Dragon system for flights to the International Space Station (ISS), the agency announced.
Crew Dragon is the first commercial spacecraft system capable of transporting humans to and from the ISS and is part of the Commercial Crew Program.
The Crew Dragon, including the Falcon 9 rocket and associated ground systems, is the first new, crew spacecraft to be NASA-certified for regular flights with astronauts since the space shuttle nearly 40 years ago. Several critical events paved the way for the certification, including grounds tests, simulations, uncrewed flight tests and the SpaceX Demo-2  test flight with astronauts earlier this year, NASA said.
"I'm extremely proud to say we are returning regular human spaceflight launches to American soil on an American rocket and spacecraft," said NASA Administrator Jim Bridenstine. "This certification milestone is an incredible achievement from NASA and SpaceX that highlights the progress we can make working together with commercial industry."