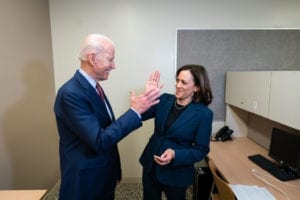 Luxembourg, 12 November 2020. – U.S. President-elect Joe Biden has announced the team that will help him to review NASA activities and plans. The Agency Review Team consists of eight volunteers, amongst them former NASA astronaut Pamela Melroy.
The other team members are Ellen Stofan from the Smithsonian Institution as a team leader, Waleed Abdalati from the University of Colorado Boulder, Jedidah Isler from Dartmouth College, Bhavya Lal from the IDA Science and Technology Policy Institute, Dave Noble from the American Civil Liberties Union of Michigan, Shannon Valley from the Georgia Institute of Technology, and David Weaver from the Air Line Pilots Association.
The Agency review teams have been created by President-elect Biden and Vice President-elect Kamala Harris to prepare them in crucial policy areas ahead of their January 2021 inauguration. The teams are composed of volunteers, full time employees and specialists, so-called detailees.
The composition of the teams was announced on the Biden-Harris Transition website www.buildbackbetter.com.