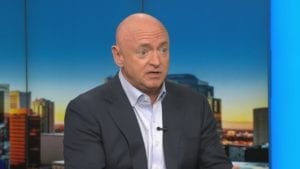 Paris, 6 November 2020. – The former astronaut and Democrat Mark Kelly is projected to win an Arizona Senate seat in the U.S. elections, defeating Republican Martha McSally, U.S. media report.
Arizona would then send two Democrats to the U.S. Senate for the first time in nearly 70 years, the reports said, "flipping a seat vital to Democrats' effort to wrest control of the Senate", the New York Times reported.
"The contest, one of the most expensive and closely watched in the nation, was the first time Arizonans had voted to send two Democrats to represent the Senate since the 1950s, underscoring the shifting demographics and politics of a state once known as a conservative stronghold," the New York Times said.
Mark Kelly flew four space shuttles, including the second-to-last mission. His wife, Democrat representative Gabrielle Giffords, was shot in the head during a political convention in 2011 but survived. His twin brother Scott was also an astronaut on Space Shuttle and ISS missions.