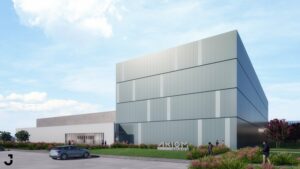 Edinburgh, 17 May 2022. – Commercial space company Axiom Space celebrated groundbreaking at the company's new headquarters at Ellington Airport, the site of the Houston Spaceport in Space City. Axiom Space will construct a campus of offices, astronaut training, mission control facilities, engineering development and testing labs, as well as a production facility.
Houston was named Space City after its leadership in the Apollo, Space Shuttle, and ISS programs. Thanks to Axiom, it is now going to home human-rated spacecraft as the company builds its Space Station modules.
Axiom's Spaceport will be developed in two phases. Phase one will be the completion of the 9,800-square-meter assembly integration and test facilities. The second phase will add further facilities for labs, mission operations and training, aircraft operations, and office space, Axiom said. The firm currently employs over 400 people and is planning to increase this number to 1,000 by 2025.
Axiom recently sent the first all-private astronaut mission, Ax-1, to the ISS, which was a forerunner of Axiom Station. The company has already signed agreements with Italy, Hungary, and the United Arab Emirates for future space missions.