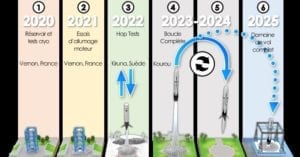 Paris, 30 November 2020. – The French space agency Centre National d'Études Spatiales (CNES) and ArianeGroup started to test Themis, the European prototype for a reusable rocket first stage, CNES said.
Contracted by the European Space Agency (ESA), a joint CNES and ArianeGroup team called ArianeWorks re-established the historic Ariane site Vernon in Normandy and started vertical Themis tests in November, CNES said.
The Themis test stage is 30 meters high and 3.5 meters in diameter and does not dispose of the "complex functionalities or the extreme optimization of its Ariane 5 and Ariane 6 equivalents", CNES said; it is intended to carry 150 tons of cryogenic fuel. Themis' Prometheus motor is to be tested in 2021, first in Kiruna in Sweden and then in French Guiana. The final Themis test stage is to use 3 oxygen-methane Prometheus motors.
The Themis test plan foresees first full test flights with launch and landing back in Kourou in 2022 to 2024 and plans to complete the launch site in 2025, CNES said.
Themis is an experimental, not an operational launcher and is supposed to help understand "the complex elements of a reusable launcher", CNES added, "with two key objectives: divide launch costs in half and reduce the environmental impact".