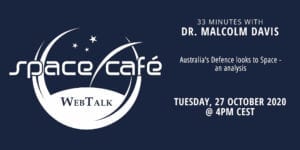 Join SpaceWatch.Global for an interesting and informative Space Café WebTalk featuring Dr. Malcolm Davis, Senior Analyst at Australian Strategic Policy Institute, Australia.  This event will take place on 27 October 2020 at 4:00 pm CEST.
Australia's Defence looks to Space – an analysis of emerging Australian thinking on the space domain for defence and national security
Dr. Malcolm Davis is a Strategic Analyst, focusing on Defence and Security issues, with a strong research interest in areas such as Future Warfare, Future Military Technology, Chinese Military Modernisation, and Nuclear weapons, as well as Military Space and Air Power issues.
The talk would cover:
how space policy has changed in recent years, moving away from dependency to sovereign space capability;

burden sharing in orbit with allies;

confronting a contested space domain and the need for space control; and

implications for Australia's growing commercial space sector and the Australian Space Agency.
This Space Café WebTalk will be hosted by Torsten Kriening, publisher of SpaceWatch.Global. The audience will have an opportunity to ask questions in dialogue with Dr. Davis.
This Space Café WebTalk will be conducted in English. Reserve your place today.