by Paul Liias, policy expert at the Ministry of Economic Affairs and Communication Estonia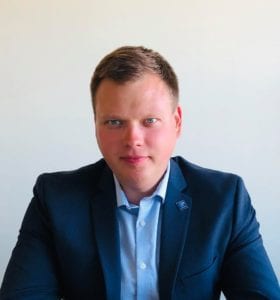 On 26 August 2020, SpaceWatch.Global Editor in Chief Markus Payer started a dialogue about the next generation ESA here. We reached out to representatives in all ESA member states and beyond to get their feedback on that topic. Here we publish their perspectives. 
How does the change of ESA DG (Director General) affect ESA's near-future direction?
Today it is very difficult to predict how a new ESA DG will affect the near-future direction of ESA, since it will depend a lot on the personality of the new appointed DG. Of course Estonia would like see more happening in digitalization of ESA and the space sector in general.
If we are talking about the ESA programmes, then Space19+, the ESA council on the minister level, where new optional programmes were kicked-off was held less than a year ago. Space19+ was very successful and now the agreed programs are carried out. ESA is a strong organization and the change of DG will not affect the already agreed programs. In the near-future the main challenge for the new ESA DG will be the preparation of new ambitious optional programmes for the next ministerial in 2022. Here we will see in which direction the new DG will steer ESA – and in the space sector 2022 can be considered as near-future.
How would you like to see the new DG make ESA more globally competitive?
ESA has to develop a strong global brand – everyone on the planet should know what ESA does and stands for. Today ESA is not competing only with other international organizations or space industry for new talent, but also with well-known technology companies and startups. Therefore, public outreach, branding and awareness raising of ESA and its activities is the key. ESA has to be an attractive and competitive international organization.
What areas of exploration and R&D should the new DG push for?
Space exploration has always inspired humans and made governments invest into space. Most of the European counties would struggle to design ambitious missions on their own. ESA makes cooperation among small member states possible and raises so the competitiveness of the European technology sector. Estonia would like to see European technology and astronauts on the Moon. I think that it is a realistic target where Europe should together work towards.
For Estonia the topics equal to space exploration are space traffic management and space cyber security. In regards to space traffic management ESA together with the European Union should create a single European perspective to negotiate on a global level. It is an area where Estonia is interested to invest in the future.
How can we get more private sector, and in general, people involved in Space in Europe?
I think that the private sector together with venture capital has already found the space sector. Startups are launching mega constellations, governments and citizens are using space technologies on a daily basis without sometimes even noticing. ESA has done an excellent job here with the ESA Businesses Incubation Centers in Europe to support the growth of the European technology companies and the use of space technologies on Earth.
Cooperation between European public and private sector becomes more important if we want the European space sector to stay competitive. This is something that ESA cannot solve alone, but together with member states and the European Union.
When will we see the first European human mission to the Moon?
I hope as soon as possible, but it will be very difficult to predict any specific year or date. In the end it will depend only on how much European countries are willing to invest. Having European missions to the Moon will challenge our European industry and also inspire our next generation in learning engineering and natural science.
Paul Liias is the expert in space technology and policy at the Ministry of Economic Affairs and Communication for Estonia. Paul has created the Estonian Space Policy and Program 2020-2027. Today he is working on national space legislation and has started activities for space cyber security.
Paul is member of the Estonian delegation to the European Space Agency and to the space groups of the European Union. He has been engaged in various roles in the space sector for past 12 years. Paul joined the ministry in 2016.