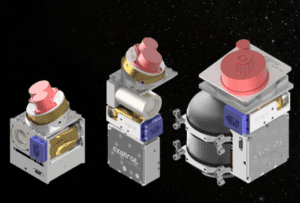 Luxembourg, 16 September 2020. – The French space start-up Exotrail continues its steady development in a challenging environment and has signed two nano- and micro-satellite contracts with the European Space Agency (ESA), the companies cofounder and CEO David Henri said on Wednesday at the Luxembourg Space Forum.
Exotrail will build and deliver engineering, qualification, and flight models of its nano- and micro-electric propulsion systems called ExoMG-nano and ExoMG-micro, the company said.
The first contract follows a General Support Technology Programme (GSTP) under which Exotrail has been supported by the French space agency CNES and will accelerate the qualification and flight demonstration of ExoMG-micro. The second contract follows a standard competitive procurement process from ESA and will enable Exotrail to test and deliver an electric propulsion system in 2021.
"Exotrail develops flexible and modular solutions for on-orbit transportation, including electric propulsion, mission optimisation and operation solutions for small satellites," Henri said in an interview at the ICT Spring Europe Space Forum in Luxembourg. "The contracts will allow us to develop new features on both products ready to be demonstrated in space."
"We have signed a row of contracts with enterprises and institutions in the admittedly difficult first half of the year; this puts us in a position to reach our business plan objectives and allowed us to secure a second funding round in difficult times."
Exotrail employs 30 people in Massy, France, where it works on propulsion systems, and in Toulouse, France, where it develops mission software, Henri said. Exotrail has raised to date more than €17 million of funding, out of which €11 million were secured this year.