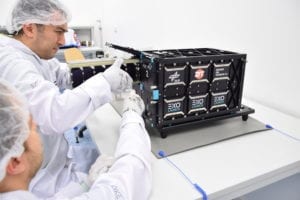 Berlin, September 15th, 2020. – The Würzburg Center for Telematics, an independent research center in Germany, and Exolaunch, a rideshare launch and deployment solutions provider, signed a launch agreement for the NetSat nano-satellite constellation, Exolaunch and its partner announced on Tuesday.
Exolaunch will coordinate all launcher related activities, including satellite shipment to launch site, integration, and deployment services to the Würzburg Center for Telematics' satellites on a Soyuz-2 rideshare mission scheduled for launch on 28 September 2020, the announcement said.
NetSat is composed of four cubesats that will pioneer research in formation control. It is set to demonstrate the self-organization of several satellites in three-dimensional space to jointly optimize the configuration for given tasks. "This will then open up innovative perspectives for future sensor networks in space, including systems for three-dimensional imaging of the Earth's surface and computer tomography methods for looking inside clouds," the company said.
All four satellites will be deployed into orbit with the 12U EXOpod, Exolaunch's cubesat deployer that has already delivered 80 cubesats into orbit to date. The satellites have been successfully integrated into the EXOpod at Exolaunch facilities in Berlin, Germany, and made their way to the launch site for integration with the Fregat upper stage.
The NetSat launch is a part of Soyuz rideshare mission and is Exolaunch's seventh mission with Soyuz-2. The mission named Wanderlust (Desire To Travel) is set to launch numerous commercial payloads "carrying cutting edge technologies from Exolaunch's international small satellite customers" and "symbolizes both the ever-increasing importance of sustainable access to space for small satellites and the longing for travel that is currently restricted."