A pioneer company in the Brazilian space sector, ALYA NANOSATELLITES CONSTELLATION is also known for its female leadership. Aila Raquel is the CEO of ALYA NANOSATELLITES, and is committed to empowering Brazil's economy by providing hyperspectral image assets and ground station services, assist in the development of commodity industries, and support environmental protection and management actions.
In order to overcome the challenges of leveraging a startup in a developing country like Brazil, ALYA uses multisector allies to support its activities by forming a network of ideas and cutting-edge technologies. Leveraging allies and joint ventures, ALYA is launching itself in pursuit of its missions.
ALYA NANOSATELLITES will generate high-tech hyperspectral images, captured by mini-camera devices placed on nanosatellites, whose strategically-calculated routes optimizes orbits that reach over Brazilian territory. A Ground Station and calibration fields will be strategically positioned in Tucano, State of Bahia, on the Brazil's northeast. Alya controls the activities of the satellites, facilitating downloads, processing, analysis of received data, and services such as tracking, command, camera adjustments, and LEOPS for rockets attending LEO and GEO orbits.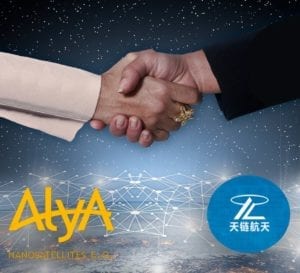 Aila Raquel combined her expertise with Tracy Jiao, from TIANLIAN TT, Beijing China, with a Memorandum of Understanding (MOU) for the establishment & operation of the Ground Station in Brazil, and cooperating with each other in related business. This will bring Tianlian's experience in command and tracking of satellites, micro satellites, and rockets to Alya's Ground Station. The companies will store and exchange data between stations, so customers will be able to benefit from all Tianlian and Alya's antennas, located in strategic locations on the planet, to serve the polar and equatorial orbits, for LEO and GEO satellites.
The parties will take a global approach to provide services like rocket tracking and telemetry, management of satellites and constellations, receiving data, and processing of satellites at strategic locations on the planet. This collaboration between the two female leaderships from Brazil and China is the first step towards the consolidation and realization of this bold and visionary project, joining forces with the purpose of solving great problems of humanity.
ICT Spring Europe 2020 invited Alya Nanosatellites Constellation E.O. to be at the Space Forum happening in September in Luxembourg. There they will present how the startup is achieving its goals of bringing global allies together and creating high technology solutions.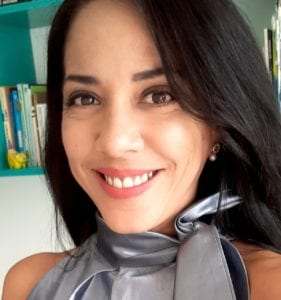 Aila Raquel is from from Salvador – Bahia – Brazil. She is an architect and urbanist, a natural planner. Her purpose is to give opportunity to people with a high capacity to solve complex problems for solutions of our daily lives. Just as she designed technological centers, now she created Alya Nanosatellites, a safe environment to combine academy and business.