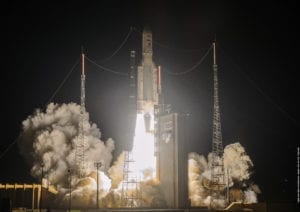 Arianespace's Flight VA253 began at the Spaceport's ELA-3 launch zone, with Ariane 5 deploying its three passengers during a sequence lasting 47 minutes from liftoff to final separation. It marked the 253rd launch of an Ariane-series vehicle to date, and the 109th using an Ariane 5.
The mission used an Ariane 5 ECA version, with increased payload capacity through the introduction of a new vehicle equipment bay for the launch vehicle. Since kicking off a continuous improvement program for Ariane 5 in 2016, prime contractor ArianeGroup has increased the launcher's payload capacity by 300 kg. for the benefit of Arianespace. This raises the total mass of payload passengers that can be carried by Ariane 5 to 10,200 kg.; for today's mission, the combined mass of G30, MEV-2 and BSAT-4b was 9,703 kg.
"Flight VA253 marked another mission of innovation for us," said Stéphane Israël, the Arianespace Chief Executive Officer. "This was the first time that we delivered three satellites to geostationary transfer orbit on a single launch, and it utilized the most capable Ariane 5 ever – with the increased payload capacity of 10.2 metric tons that is now available for satellite payloads."
Continued success with Intelsat and Northrop Grumman
Deployed first in the flight sequence 27 minutes after liftoff, G-30 is the 62nd satellite Arianespace has launched for operator Intelsat, continuing a business relationship that extends back to 1983. It was produced by Northrop Grumman based on its GEOStar-2 platform, and will provide UHD video distribution/broadcast and broadband services that cover North America.
G-30 was carried as Ariane 5's upper payload component, stacked with the MEV-2, built by Northrop Grumman's wholly-owned company SpaceLogistics LLC. MEV-2 is designed to dock with geostationary satellites whose fuel has nearly depleted, thereby extending their useful lifetimes.
MEV-2 will rendezvous and dock in early 2021 with the Intelsat 10-02 (IS 10-02) satellite, originally launched in 2004. The Mission Extension Vehicle is to utilize its own thrusters and fuel supply to control the IS 10-02 satellite's orbit. Counting the G-30 and MEV-2, Arianespace has now orbited a total of 30 spacecraft produced by Northrop Grumman or its companies.
Another launch for Japan's B-SAT with a Maxar-built satellite
The lower passenger in Ariane 5's multi-payload configuration was BSAT-4b, which was orbited for the Japanese operator B-SAT. Produced by Maxar Technologies, it uses this manufacturer's popular 1300-class spacecraft bus for commercial communications satellites.
BSAT-4b is designed for Ultra-High-Definition (UHD, 4K and 8K) direct-to-home television broadcasting across Japan in conjunction with its twin, BSAT-4a – which was launched by an Ariane 5 in 2017. All of BSAT's 10 satellites have been orbited on Arianespace missions.
Ariane 5's launch by the numbers
Flight VA253 was Arianespace's fifth launch so far in 2020, and it follows two other heavy-lift Ariane 5 missions this year: the first orbited the EUTELSAT KONNECT and GSAT-30 satellites in January; while the second, performed in February, lofted JCSAT-17 and GEO-KOMPSAT-2B. Two medium-lift Soyuz missions also were conducted in February and March, with each successfully delivering 34 OneWeb constellation satellites to low Earth orbit.
The next mission in Arianespace's 2020 manifest is the proof-of-concept flight for Europe's Small Spacecraft Mission Service (SSMS) – which will deploy 46 small CubeSats and seven microsatellites from the light-lift Vega launcher, using a new-design rideshare dispenser system. This flight is planned for September 1.