by Sebastien Moranta

The ESPI Yearbook is an annual publication that provides a complete overview of all major developments and trends in the space sector over the year including policy, programmes, industry, economy, business and overall worldwide activity.
One yearbook, four areas:
Policy & Programmes, where we report on the latest developments of space public, governmental and institutional affairs
Industry & Innovation, where we gather prominent announcements related to space industry evolutions worldwide and technology's most promising progress
Economy & Business, which is based on a collection of indicators relevant to the global space economy and markets
Launches & Satellites, which presents some exploitations of our in-house databases related to launch site activities worldwide
After 10 successful years, we chose in 2019 to completely review the formula and editorial policy of this publication and eventually decided to make it available to all, for free, like other ESPI reports. We do not pretend to describe and analyse the entire evolution of the global space sector but ESPI Yearbook provides a great deal of useful information, data and insights on a selection of topics expected to shape the future of the sector.
Here is a selection of some topics from Moon exploration 2019 that we believe have marked the year and will have an important impact for the coming ones. 
A change of paradigm in the space defence domain
At global scale, the year was marked by a change of paradigm in the space defence domain, characterised by a more assertive posture of some governments considering space as a field of operations. While India proceeded with an ASAT test in March, then describing itself as a "space power", the United States significantly reshuffled its military space structure through the creation of the Space Development Agency, the U.S. Space Force and the U.S. Space Command. In the same vein, Japan announced the establishment of a Space Domain Mission Unit and NATO declared space an operational domain. Europe was also an actor of this trend: France published a new Defence Space Strategy and announced the setting up of a Space Command; Italy issued a National Security Strategy for Space, which will constitute the reference for its future planning, programming, acquisitions and operations; and the United Kingdom announced a series of initiatives for its military space programme.
The recent publication of the new U.S. Defense Space Strategy marked another milestone in this series of developments feeding international debates on militarisation of space. ESPI actually published a com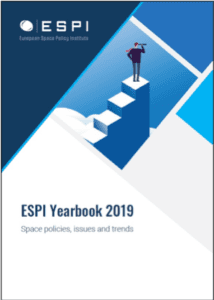 plete report on space defence, providing a more detailed overview of this issue and highlighting key questions for Europe in this domain.
Progress of Moon exploration plans, industry involvement taking shape
Another important area for space policy and programmes in 2019 concerns the major progress of lunar exploration plans, in particular through the U.S. Artemis programme, which is progressively taking shape, in cooperation with international partners in Europe, Japan, Canada and Russia. Between multiple technical proposals, programmatic decisions, partnership agreements and commercial contracts, there was much to report this year to give a complete overview of how plans are shaping up.
Despite tangible progress, some outstanding questions remain regarding funding, the formalisation of partnerships and the future of the ISS. What is however becoming much clearer is the involvement of industry as many contracts were signed including the Lunar Gateway (e.g. PPE and HALO contracts respectively granted to Maxar and Northrop Grumman), the Orion spacecraft (Lockheed Martin reached an agreement with NASA to build up to twelve more capsules) and the Space Launch System (opening of negotiations between NASA and Boeing for the manufacturing of future rockets). It was also interesting to look into new NASA approaches to the procurement of logistical services, Human landing system and commercial lunar payload services.
These announcements are triggering a great momentum for the industry in the space exploration domain with interesting developments for the future. The publication of the U.S. Executive Order on space resources in April 2020 already triggered interesting debates on international agreements. We will certainly report on this and many other developments already happening in our Yearbook 2020.
Turmoil in satcom markets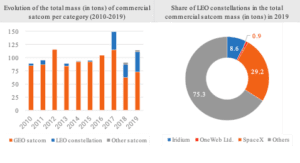 Important developments marked the satcom market in 2019, with both the ramping up of mega-constellations projects and new plans in the GEO satcom industry.
With the launch of 120 Starlink satellites (raising concerns for astronomy and space sustainability) and the first batch of OneWeb satellites, constellation projects accounted for a third of all commercial satcom launched in 2019. Of course, the bankruptcy of OneWeb in March 2020 raised again some questions on the business viability of these projects but the multiple bids to acquire the company's assets also showed that there is high interest from multiple commercial and governmental parties.
In parallel of these developments, the number of GEO satellite orders remained low (15), even though better than the two previous years, and only 14 GEO satcom were launched. The transformation in telecommunication and media sectors is profoundly impacting satcom operators that are currently facing market uncertainties, which affects, in turn, the manufacturing industry; some important actors already announced reorganisations (Maxar, Thales Alenia Space and Airbus DS), even before the COVID-19 crisis. This context calls for innovation and satellite manufacturers are very proactive in this field, developing important new technologies to provide more flexible solutions to their customers such as small GEO satellites equipped with digital payload. All major manufacturers unveiled such families of satellites in 2019.
New record number of satellites launched and steady growth of the global space economy
The 100+ space economy indicators made publicly available by 20+ authoritative sources and compiled in the Yearbook illustrate the important development of the sector driven by multiple governmental and commercial trends and factors. Statistics include:
Global space economy estimation by value chain segment and/or market
Public space budgets, including consolidated European space budgets
Estimations of private investment in Europe and in the world
Details on European space economy statistics
We also provide statistics from ESPI launch database. In 2019, 489 spacecraft belonging to 39 nations were launched, a new record!
Ethiopia, Sudan and Rwanda launched their first satellite and joined the long list of 80+ countries involved in outer space activities. China ranked first in terms of number of launches (34) while the United States launched the most satellites in orbit (277). Most of the spacecraft were dedicated to Telecommunication, Remote Sensing or Technology/Demonstration missions, while Telecommunication and Human Spaceflight were the primary activities in terms of mass launched. Most satellites launched were commercial (274) but governmental markets remained dominant in terms of mass (183.6 tons). In addition to many other statistics and graphs, a complete and detailed launch log is provided with details on key missions that have marked the year.
… and many other information and data on major trends
ESPI Yearbook 2019 reports on many other developments such as the creation of new space agencies and the enactment of new space policies, developments in space safety and sustainability, including for Space Traffic Management activities, progress in new-gen launchers developments and continuing frenzy for micro-launchers, and many more… The Yearbook also provides info-sheets on major corporate and business developments for 40 companies and more than 90 graphs and tables with statistics on key trends of the space sector.
We hope that you will enjoy going through this publication as much as we did preparing it and that you will find it useful. Of course, we would be more than happy to receive feedback on ways ESPI Yearbook could still improve to better fulfil your needs in its future issues.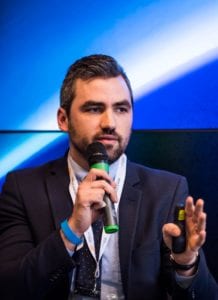 Sebastien Moranta is Coordinator of Studies at the European Space Policy Institute (ESPI) in Vienna, an independent and public think-tank providing decision-makers with an informed view on short to long-term issues relevant to the European space policy. Prior to supervising the research activities of the Institute, he was a Senior Associate at PricewaterhouseCoopers Advisory where he managed multiple studies for public and private space sector stakeholders. Former analyst at Eurospace, the association of the European space industry, he has worked on various space strategy and policy issues.