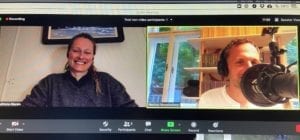 SpaceWatch.Global is pleased to present the 6th episode in our podcast series The Space Cafe Podcast: Proudly Human – the ambitious mission of a woman who seeks new knowledge for our civilization on Mars.
Episode 006 features special guest Dr. Adriana Marais. She is a professional bartender, a quantum biologist, a theoretical physicist, an aspiring extraterrestrial and a real explorer. With her latest project "Proudly Human" she wants nothing less than to get us humans ready for the first landing on Mars. In a fascinating conversation, Adriana Marais explains how this is also contributing to the solution of some of our most pressing terrestrial problems.
Please find the poll mentioned in this episode right here: https://www.survey-maker.com/QMHHA0PI.
That episode will give you some serious food for thought – about our future on our planet Earth and ourselves.  Check out https://proudlyhuman.com , the project we highlighted in the talk.
The Space Cafe Podcast brings our signature brand of engaging and relevant content from across the global space economy to you via an exciting new format. Together with award winning Executive Producer, Markus Mooslechner (Terra Mater Factual Studios), our fortnightly podcast features highly interesting guests.
Each episode includes a review of the most important topics included in SpaceWatch.Global's bi-weekly newsletter, as well as guest appearances and deep commentary from expert panelists from across the space sector.
Thanks to our global distribution partner, BookWire, the podcast is available on all major podcast platforms.