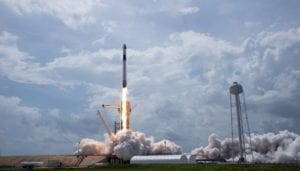 SpaceX has become the first private company to launch a crewed mission into low-Earth orbit. At 3:22pm Eastern Standard Time (EST), 30 May 2020, a SpaceX Falcon 9 launch vehicle launched two NASA astronauts – Bob Behnken and Doug Hurley – on board the SpaceX Crew Dragon capsule.
The launch was originally supposed to take place earlier on 27 May 2020 but was scrubbed several minutes before the scheduled launch due to inclement weather in the area around the Cape Canaveral launch facility in Florida, United States.
Behnken and Hurley, both veteran NASA astronauts, were outfitted in specially designed spacesuits and were driven to the launch pad – the same used to launch Neil Armstrong, Buzz Aldrin, and Michael Collins on the Apollo 11 mission to the Moon in July 1969.
Following the Crew Dragon capsule's launch into orbit its next milestone was to dock with the International Space Station (ISS) that successfully took place mid-morning EST on 31 May 2020.
The launch was the first for NASA's Commercial Crew Program, where SpaceX and eventually Boeing will launch astronauts from the United States under a NASA contract. NASA has always relied on commercial contractors for its space missions, but this is the first time that a commercial company has been solely responsible for the design, development, manufacture, launch, and recovery of NASA astronauts.
The Crew Dragon launch was also the first crewed space launch to take place from the United States since the Space Shuttle was retired in 2011. Since then American astronauts have been launched to the ISS by Roscosmos under a contract arrangement between the Russian space agency and NASA.
The crewed launch arrangement between the US and Russia for the foreseeable future, but the successful launch of the SpaceX Crew Dragon will signal to Moscow that US reliance on Russia for human spaceflight is likely coming to an end.
After the launch of Behnken and Hurley on board the Crew Dragon, a visibly emotional Elon Musk, founder and owner of SpaceX, told journalists, "I'm really overcome with emotion, and it's really hard to talk. We have not yet docked [with the ISS], and of course we need to bring them back safely. So it's a lot of work to do. But it's just incredible."
A second crewed launch of the Crew Dragon is thought be scheduled for August 2020, but NASA has neither confirmed or denied this.