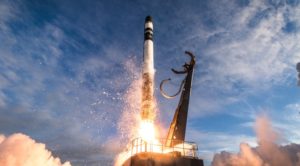 Rocket Lab, a space technology company and the global leader in dedicated small satellite launch, has resumed launch operations for its next Electron launch following the easing of Covid-19 restrictions.
Rocket Lab's 12th Electron launch was postponed from its original date of March 27th following the implementation of the New Zealand Government's Alert Level 4 Covid-19 national response, which required most businesses to close, restricted travel, and instructed people to stay home. 
With COVID-19 restrictions now eased, a new launch window for this mission has been scheduled to commence 11 June 2020 NZT from Rocket Lab Launch Complex 1 on New Zealand's Māhia Peninsula. The mission will loft payloads for the National Aeronautics and Space Administration (NASA), the National Reconnaissance Office (NRO) and the University of New South Wales (UNSW) Canberra Space.
The Electron launch vehicle and the Launch Complex 1 ground systems have remained in a state of readiness throughout the Covid-19 lockdown in preparation for a quick return to launch operations. Enhanced health and safety processes will be implemented for this launch in line with government health advice to protect Rocket Lab personnel. These measures include physical distancing, split shifts, maintaining contact tracing registers, limiting interaction between team members, enhanced cleaning, and stringent hygiene standards.
Payloads onboard 'Don't Stop Me Now':
NASA's ANDESITE (Ad-Hoc Network Demonstration for Extended Satellite-Based Inquiry and Other Team Endeavors) satellite will launch as part of the agency's CubeSat Launch Initiative (CSLI). Created by students and researchers at Boston University, ANDESITE will conduct groundbreaking scientific study into Earth's magnetic field.
This mission also carries three payloads designed, built and operated by the National Reconnaissance Office. The mission was procured under the agency's Rapid Acquisition of a Small Rocket (RASR) contract vehicle. RASR allows the NRO to explore new launch opportunities that provide a streamlined, commercial approach for getting small satellites into space, as well as provide those working in the small satellite community with timely and cost-effective access to space.
The final payload onboard is the M2 Pathfinder satellite built in a collaboration between the University of New South Wales Canberra Space and the Australian Government. The M2 Pathfinder will test communications architecture and other technologies that will assist in informing the future space capabilities of Australia. The satellite will demonstrate the ability of an onboard software-based radio to operate and reconfigure while in orbit.
This announcement was made on 28 May 2020.