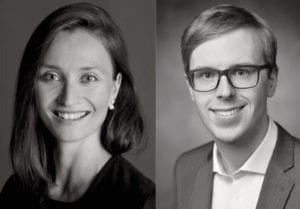 In this week's Space Cafe Web Talk, Dr. Regina Peldszus and Marc Becker, of DLR Space Administration discussed the concept of 'dual-use': how space technologies enable both civilian and military applications.  The discussion highlighted key issues at this complex intersection for both domains and addressed policy discourse on the future of applicability for space situational awareness, security, on-orbit servicing, and the possibility of space neutrality.
They provided insight to the post-Cold War space environment and how dual-use has evolved from arms control non-proliferation to an opportunity to cultivate technology for multipurpose systems.  It was an encouraging perspective on exploring commonalities and synergies amongst military and non-military stakeholders.  The conversation inspires much consideration about how space actors are diversifying use of the same systems and how this is altering the regulatory approach.
They also answered relevant questions from the audience.
Dr. Regina Peldszus and Marc Becker work on governance and security issues in European space policy, with a focus on space situational awareness in the DLR Space Administration.
This Space Cafe Web Talk, held on 16 June 2020, was hosted by Torsten Kriening, co-publisher of SpaceWatch.Global and COO of ThorGroup GmbH. The Space Café WebTalks series is SpaceWatch.Global's innovative webinar platform featuring global space experts.
The complete video can be seen here: