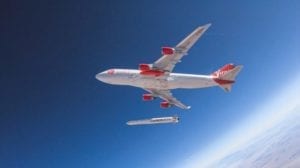 VOX Space, the Virgin Orbit subsidiary which provides responsive and affordable launch services for the U.S. national security community, has signed a new agreement with the Department of the Air Force, allowing the company's LauncherOne system to conduct missions to space from Andersen Air Force Base in Guam. VOX Space President Mandy Vaughn and U.S. Air Force 36th Wing Commander Brig. Gen. Gentry Boswell, signed the Commercial Space Operations Support Agreement (COSOSA) Annex in early April, setting the stage for the STP-27VP mission, VOX Space's first launch from Andersen Air Force Base.
Virgin Orbit and VOX Space first expressed interest in launching from the Pacific island of Guam in mid-2019. Due to Guam's low latitude and clear launch trajectories in almost all directions, the company's uniquely mobile LauncherOne system can effectively serve all orbital inclinations, such as delivering up to 450kg to a 500km equatorial orbit.
The U.S. Department of Defense (DoD) Space Test Program (STP) procured the STP-27VP launch with VOX Space under the Rapid Agile Launch Initiative (RALI), leveraging the Defense Innovation Unit's (DIU) Other Transaction Agreement. One of the first missions to fly on LauncherOne, the STP-27VP manifest consists of several CubeSats from various government agencies performing experiments and technology demonstrations for the DoD.
"We're very grateful to Brig. Gen. Deanna Burt and her team at HQ USSF/S3, as well as Wing Commander Brig. Gen. Boswell, Vice Commander Col. Matthew Nicholson, and all of the excellent airmen and women of the 36th Wing and Pacific Air Forces for their support," said VOX Space President Mandy Vaughn.  "Lt. Gen. John Thompson and his team at the Space and Missile Systems Center have also provided visionary leadership throughout this process. We're very excited to demonstrate the flexibility and mobility that only LauncherOne can offer."
Because the system is not tied to a traditional ground-based launch site, LauncherOne will leverage key locations around the world including Guam to provide responsive and affordable flights to space for a broad variety of customers. Even now, VOX Space and Virgin Orbit are working closely with multiple allied governments and international organizations interested in establishing launch capabilities closer to home.
After successfully demonstrating all major vehicle assemblies and completing an extensive flight test program, the Virgin Orbit team is in the midst of final preparations for an orbital launch demonstration expected soon.