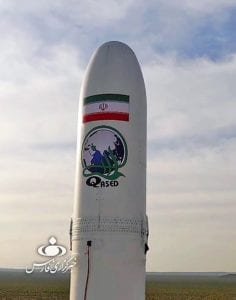 On 22 April 2020 Iran's Islamic Revolutionary Guard Corps (IRGC) successfully launched a small satellite – the Noor-1 (Farsi for 'Light') – on a previously unseen satellite launch vehicle called the Qased. Over the course of this week SpaceWatch.Global is running a series of perspectives on the strategic, political, and geopolitical implications of the launch for Iran, the Middle East region, Europe, and the United States. Our first perspectives come courtesy of Professor Gawdat Bahgat of the Near East South Asia Center for Strategic Studies at the National Defense University in Washington, DC, United States (below), and Dr. Seyed Hossein Mousavian of Princeton University (see here). 
What are the strategic implications?
In order to fully appreciate and understand the significance of Iran's recent successful launching of a military satellite and placing it into orbit, one has to take a close look at the strategic context. 2020 will go down as one of the worst years in the short history of the Islamic Republic. The year started with the assassination of General Qasem Soleimani, followed by the tragic downing of the Ukrainian airplane, which the Islamic Republic Guards Corp (IRGC) took responsibility for. Then came the COVID-19 virus and the collapse of oil prices. All these crises have had their significant impact on Iran. The country requested a US$5 billion emergency loan from the International Monetary Fund (IMF) to fight the Coronavirus. Several European countries and former US officials backed Iran's request. Instead, the Trump Administration decided to double down on its "maximum pressure" strategy. Smelling victory, senior officials seem to believe that the Islamic Republic's days were numbered. Against this background, the launching of the satellite makes sense. Tehran wants to send a clear message that despite these recent setbacks, the regime is strong and making progress in its quest for military power and advanced technology.
Does Iran have a militarily useful satellite? 
The Iranian authorities confirmed that the Noor 1 (Light 1) satellite has military and intelligence applications. The IRGC's commander, Major General Hossein Salami, described the successful launch as a "strategic achievement" and Iranian news agency Tasnim called it a "milestone." Based on open sources, it is hard to provide an accurate assessment of the military significance of this step. However, indications from both Iran and the United States suggest that the successful launch is an important achievement. On the Iranian side, in February 2009, Tehran successfully used the Safir space-launch vehicle (SLV) to send the Omid Satellite into space. In July 2017, Iran claimed that it had successfully launched into space its satellite-carrying rocket, Simorgh, capable of reaching a higher altitude and carrying heavier load than earlier models. This means that Iranian military leaders believe there is value in investing their limited financial resources in this space program. On the American side, in recent years, Iran's space program has suffered significant setbacks, including failures to put satellites into orbit (Zafar 1 in 2020, Payam and Doosti in 2019), a launch-pad explosion and a separate fire at Imam Khomeini Space Center in 2019. In February 2019, The New York Times reported that the United States has an active program to sabotage Iran's space capabilities. According to the report, this program explains the astonishing high rate (67%) orbital launches failure in Iran, compared with a five percent rate worldwide. The United States government never confirmed The New York Times report. Still, clearly Washington takes a strong stance against Iran's missile and space program.
Why has the IRGC created its own space program?
At least two forces drive Iran's space program – security and pride. Iranian strategists perceive their country as surrounded by the much more technologically advanced United States. American military bases and regional allies (including Israel, Saudi Arabia and the UAE) surround Iran. In response, Tehran has developed an asymmetric warfare strategy, which seeks to avoid direct military confrontation but tries to make such a confrontation very costly for the aggressors. This threat-perception is the primary force behind the nation's defense strategy. Pride is another important force. The Iranians are very proud of their scientific and technological advances. Since 2009 Tehran has dedicated a National Day of Space Technology to celebrate its scientific achievements.
What does the Qased launch vehicle mean for Iran's ballistic missile capabilities?
It is very likely that the successful launch has added to Iran's military and missile capabilities. However, this does not imply that the nation has an intercontinental ballistic missile (ICBM) capability. ICBM technology has been developed since World War II. Since then, there have been several examples of states converting ICBMs into SLVs or developing the two technologies in parallel. However, SLVs have never been transformed into ICBMs.
How should countries respond?
Despite very severe economic sanctions as part of the US-led maximum pressure strategy and very expensive arms deals to US regional allies, the regime in Tehran is not about to collapse. Rather, it seems to be in control and getting stronger. Furthermore, there is no credible replacement. Instead of engaging and reinforcing an arming race, the United States and regional powers, supported by Europe, should negotiate a new security architecture under which all states would accept each other and promote economic and political cooperation. The Coronavirus pandemic can serve as a reminder that regional co-existence and cooperation are essential to overcome natural and man-made disasters.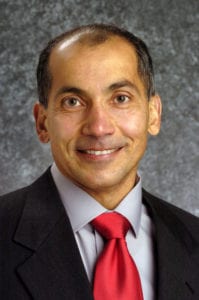 Dr. Gawdat Bahgat is a professor at the Near East South Asia Center for Strategic Studies at the National Defense University in Washington DC. He is the author of 11 books on the Middle East. The opinions expressed are the author's alone and do not represent the views of the U.S. government or the policies of the Department of Defense.