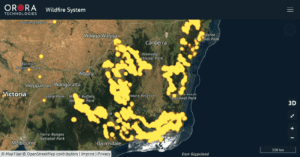 Today, OroraTech announces the release of a new version of their wildfire intelligence system. The company specializes in early wildfire detection and monitoring from space using satellite data. After carefully evaluating customer feedback received over the last months, OroraTech has added several new features to their system. The first version was released in November 2019, and has been a great success with customers in the forestry and first responder sectors.
From the company's latest release of the system, OroraTech Co-founder and Lead Software Engineer Florian Mauracher said, "We are excited to see the system grow with our new and existing customers, and we are committed to working together to help them fight wildfires and protect the environment."
To improve the user experience, OroraTech planned and executed the following features:
Notifications on each new detected fire hotspot: You can mark your areas of interest on the map. Every time a new hotspot is detected in this area, you will receive an email notification informing you of the time and location of a new detection. This email contains a link to view the fire event directly on the WFS to get all the information and images available for this specific detection.
Fire danger and fuel maps: These two new visualizations provide insights for a better fire risk assessment. The fire danger map is updated daily according to the latest estimates on the expected fire risk based on the current weather forecast.
Historical visualization of hotspots: You can visualize all hotspots detected on the map with data as far back as October 2019.
New satellite data source: The high-resolution LEO NOAA-20 satellite data source is now integrated. Additionally, we are now processing the SUOMI-NPP and NOAA-20 images with both provider and in-house detection algorithms to offer you more reliable information.
Newly improved interface: The WFS is more intuitive and user friendly. Our new version includes a better page layout for both desktop and mobile devices. A new domain is now used for the WFS (app.ororatech.com), and the old domain will automatically redirect you.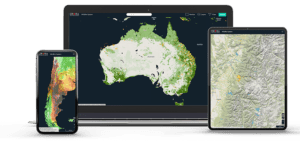 OroraTech is a space tech company based in Munich, Germany. Founded in 2018 as a spin-off from the Technical University of Munich, OroraTech has created a wildfire detection and monitoring system to provide users in emergency services, forestry industry and government entities with better information to mitigate wildfires. In addition, OroraTech is developing a CubeSat constellation featuring a novel thermal-infrared imager for precise temperature and fire detection, utilizing a special on-orbit processing unit, which enables AI-enhanced image processing directly in space.
This announcement was released on 5 March 2020.