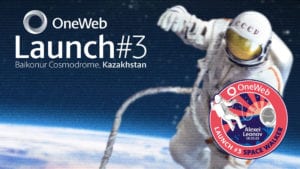 British-headquartered satellite communicatons company OneWeb announced on 21 March 2020 that another 34 satellites were successfully launched on board a Soyuz satellite launch vehicle from the Baikonur Cosmodrome in Kazakhstan.
This successful launch – the second in six weeks – comes a day after a story appeared in Bloomberg suggesting that OneWeb is mulling the possibility of filing for bankruptcy to take on an impending cash crunch due to "high costs and stiff competition."
Reporting from online technology news site TechCrunch also reveals that OneWeb has laid off approximately 10 percent of its workforce last week, and that the company expects delays in its satellite manufacturing and launch schedules. In a statement to TechCrunch, a OneWeb spokesperson cited the Coronavirus pandemic and the ensuing economic crisis as the reason behind the layoffs.
The 21 March 2020 launch brings the number of OneWeb satellites in low-Earth orbit (LEO) to 74. On top of this, OneWeb's press release states that it has, "now successfully deployed and tested satellites, installed ground stations globally, secured valuable spectrum and has a range of user terminals in development to meet customer needs."
In the same press release, OneWeb's CEO Adrian Steckel was bullish about the viability of his company and said, "In these unprecedented times following the global outbreak of COVID-19, people around the world find themselves trying to continue their lives and work online. We see the need for OneWeb, greater now more than ever before. High-quality connectivity is the lifeline to enabling people to work, continue their education, stay up to date on important healthcare information and stay meaningfully connected to one another. The crisis has demonstrated the imperative need for connectivity everywhere and has exposed urgent shortcomings in many organizations' connectivity capabilities. Our satellite network is poised to fill in many of these critical gaps in the global communications infrastructure."
The 20 March 2020 Bloomberg report suggests that OneWeb executives are exploring a court protection order filing to shield the company from its creditors, but are also understood to be examining alternative measures outside of the courts to restore the company's financial health.
OneWeb has raised about US$3.3 billion in debt and equity financing from investors that include Softbank, Airbus, and Qualcomm Incorporated. If OneWeb does file for bankruptcy it will be the first Softbank-backed venture to do so.
Echoing the remarks by OneWeb's Steckel, Raphael Roettgen, Managing Director of E2MC – a satellite finance company, told SpaceWatch.Global in an email that, "if anything, the current coronavirus-induced situation of working from home and increasing anecdotes about overloaded communications networks, has further validated the potential value of satellite broadband networks. In this vein, I hope that some strategic players with money — and I could think of a few — will take a look at OneWeb, if the company indeed finds itself in a tough spot."
Blaine Curcio, a Hong Kong-based satellite business analyst and founder of Orbital Gateway Consulting, said, "the recent market turmoil, spike in short-term financing costs (especially for leveraged companies), and general "risk-off" sentiment that has overtaken the world in light of the Coronavirus pandemic has created a perfect storm through which all companies will need to navigate."
"While it's important to note that the report speaks of "reportedly mulling a bankruptcy", the clear challenges being faced are nonetheless a sign of the times, and also a sign of the extent to which competitors (notably SpaceX's Starlink) have moved at extraordinary (sometimes reckless) speed in deploying their constellations, relative to OneWeb's "slow and steady wins the race" philosophy," Curcio added.